Slovak transporters have started to block the movement of trucks through the Višne Nemetske checkpoint with Ukraine.
The spokesperson of the State Border Service of Ukraine conveyed words to his colleagues from Slovakia that today (November 21) at 1:30 p.m., traffic obstruction for trucks moving in the direction of the Slovak border crossing, which is in close proximity to Ukrainian "Uzhhorod".
On the territory of #Slovakiacarriers are blocking the movement of Ukrainian trucks through the checkpoint "Vyšné Nemecké", – State Border Guard Service of #Ukraine.
The blockade began at 13:30. Its terms are not reported. Currently, there are about 300 trucks in the direction… pic.twitter.com/vP6dFxhFN0
— NEXTA (@nexta_tv) November 21, 2023
The protest was initiated by the Association of Transporters of Slovakia. It is not known how long the blockade will last. It is possible that the action will be prolonged, admitted the spokesperson of the Ukrainian border guards, quoted by "Ukrainska Pravda".
More: More: Queues of Ukrainian trucks at Slovak border too, Bratislava checks them
He said that the Ukrainian border authorities are taking measures to monitor the situation, "establishing the specifics of cooperation with their Slovak counterparts regarding the procedure for the further passage of cargo vehicles and the category of cargo that will be allowed to cross the border ".
The blockade
Around 17:30 Bulgarian time, there are about 300 trucks waiting to cross the Slovakian border in the direction of Ukraine in front of the "Vishne Nemetske" checkpoint.
All interacting authorities are notified of the truck congestion situation.
At the same time, the passage of cars and buses is carried out as usual.
More: Polish border guards refuse to let humanitarian goods into Ukraine?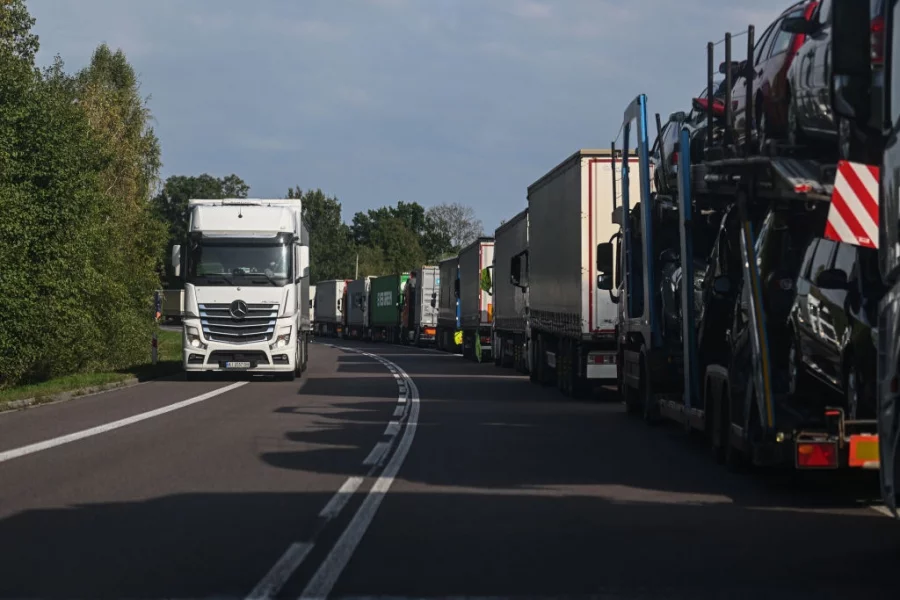 Photo: Getty Images
Background
Representatives of the Slovak Union of Freight Carriers (UNAS) blocked the Višne Nemetske checkpoint on the Slovak side, expressing solidarity with Polish carriers.
We remind you that the Poles are also blocking the border with Ukraine because of the free movement of Ukrainian trucks in the EU according to an agreement concluded between Kyiv and Brussels. Polish carriers claim that this way Ukrainian trucks transport Polish goods to a third country at a lower price than local companies can afford, undermining their business.
In response, Ukrainian carriers staged a counter-protest at the border with Poland today.
Ukrainian truckers organized their protest at the border of #Ukraine and #Poland
Video: Suspilne Lviv pic.twitter.com/383wxEdIaI
— NEXTA (@nexta_tv) November 21, 2023
Slovak carriers have previously threatened to completely block the border with Ukraine if the European Commission does not intervene. They are demanding the introduction of permits for Ukrainian trucks, as European companies cannot compete with them. This is the same demand that the protesters on the Polish-Ukrainian border have.
The European Commission emphasized that one of the main demands of Polish carriers, blocking the border with Ukraine, is not legally possible.
More: The border between Ukraine and Poland is jammed with thousands of trucks: What is the cost of the blockade? (VIDEO)