The beautiful orchid is a capricious flower. A mild climate, good lighting, but no direct sunlight are only part of its requirements in order to develop normally and please with its beautiful colors. But growing an orchid that blooms constantly is a real art. For this purpose, it is important first of all to choose the right place to place the pot with it.
Where is the best place to put the pot?
The most important thing is to be familiar with the conditions that this flower needs. First – mild climate, second – good lighting, third – temperature from 20 to 30 degrees Celsius during the day and 18-25 at night.
Watering the orchid after transplanting – here's how to do it right

It is clear that in winter it will not be easy to find such conditions in a city apartment. After all, air humidity below 50% is already critical for orchids. But these conditions can be achieved by spraying or placing a container of water next to the plant.
As for choosing a place on the windowsill, in the summer it is better to choose between the east and west sides. South-facing windowsills are not the best option for this flower. You will need to provide it with protection from direct sunlight.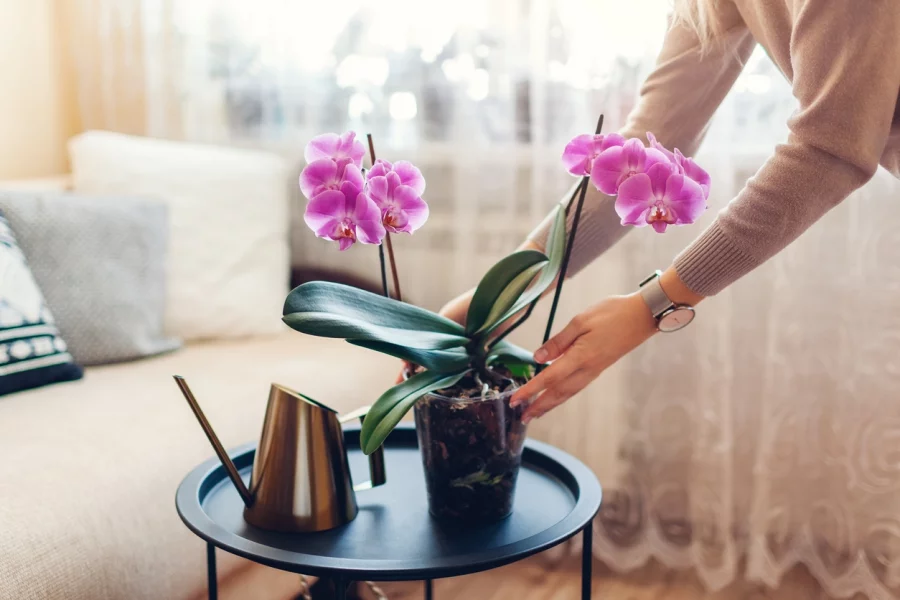 In winter, on the contrary, it is better to move the orchids to the south side, gradually accustoming them to exposure to direct sunlight. If you leave the pot in the shade, nothing but leaves will grow. You should also protect the plant from temperature changes, especially during the cold season.
Care for orchids during flowering
Step 1: make side holes in the inner pot, this will improve the ventilation of the substrate and protect the roots from rotting.
Step 2: Dry the leaves thoroughly with a cloth dampened with water. Dusty and dirty leaves will interfere with photosynthesis.
Step 3: place the flower in a place with diffused light – it does not like direct sunlight, burns can appear on the leaves under the bright sun. In winter, when there is little sun, help the plant with artificial light (extending daylight to 12 hours), for example phytolamp.
Step 4: as a rule, the regularity of watering does not exceed 1 time every 1-2 weeks (depending on the humidity of the room). Watering can be done in several ways:
soaking in water for 15-20 minutes (the purpose of this soaking is to saturate the roots and substrate with water). Soaking can be done in the pot in which the flower is or in a separate container, with the inner pot with the root system immersed 2/3 in water; spraying or watering under the shower – this method is ideal for orchids with an aerial root system, as well as for refreshing the leaves.
After watering, do not forget to let the water drain for 20-30 minutes and then you can return the pot to its place.
More: Even the most capricious orchid will start to bloom with the help of rice