More: Project: End of quarantine for patients with COVID-19
For the last 24 hours, a total of 1,908 tests (PCR and antigen) were performed, which is 750 less than the 2,658 samples in the previous report. Thus, the percentage changes from 16.74 percent to 16.29%.
More: WHO reports major rise in global COVID-19 cases in 28 days
For the day, 1,843 antigen tests were performed, of which 300 were positive, i.e. 16.27%. PCR tests are 65, and there are 11 detected cases with this type of samples or 16.92 percent.
More: What we know about new dominant variants of COVID-19: US virologist speaks (VIDEO)
The most cases were found in the city of Sofia – 72, followed by Burgas with 67. In 2 regions – Pleven and Razgrad, no new infections were registered.
More: UK starts early vaccination for COVID-19 mutation
Total confirmed cases are 1,313,593. 3,800,940 PCRs and 7,558,621 antigen tests have been performed (total 11,359,561), with the average percentage of positive samples since the beginning of the pandemic being 11.56 percent – unchanged on a daily basis.
More: COVID-19 is milder but can cause hearing problems
Active cases are increasing seriously and are now 2,667 – 190 more. According to experts, the huge drop in early July 2022, when within two weeks the number of active infections decreased by about 90,000, is explained by the fact that there were many unreported recovered patients in the past two years and especially during the peaks in the previous waves, when the regional RZIs were extremely busy, due to which the real numbers were not taken into account, and now this indicator is being corrected.
More: Mutafchiiski: It is insulting that there are no official statistics on how many people died during COVID – PHOTOS – VIDEO
There is also an increase in the number of hospitalized persons, as they are 298 – by 23 more (51 were admitted to hospitals, 28 were discharged). For comparison, during the worst days of the pandemic in April 2021, more than 10,500 people were treated in hospitals. The number of patients admitted to intensive care units is 20 – with 1 more on a daily basis. It is the occupancy of intensive care beds that is one of the main criteria for tightening the measures in our country, and not, as before, the number of infected persons or active cases.
MORE: Hacking in. Scientists for the first time filmed how the coronavirus infects the cell (VIDEO)
In this regard, the Unified Information Portal presents data on the occupancy of intensive care beds in the five clusters. The whole country is at Stage 0 – blue zone ie. the lowest level. Due to the reduction of workload in intensive sectors, from March 21, 2022, the green certificate was completely discontinued. And with the arrival of the fifth official cabinet, appointed by Rumen Radev, it became clear that every week an expert council will report the most important data and decide whether and what measures will be taken.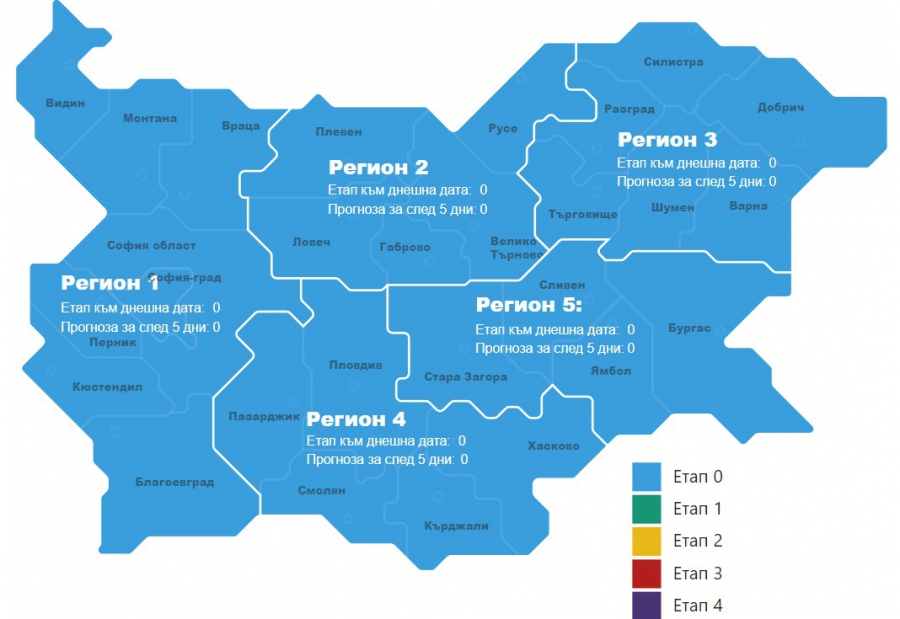 120 were officially registered as cured in the last report, bringing the total to 1,270,462. There was 1 reported death in the last 24 hours – 3 less than the previous report. Thus, the number of those who lost the battle with the virus in Bulgaria is now 38,464.
More: Russia halts mass vaccination against coronavirus
A total of 26,579 medical personnel are among the official coronavirus cases, which means there are 8 new ones. There are 1,038 people under quarantine, which is 1,629 fewer than the currently active cases. Information on the number of people quarantined due to COVID-19 is available here, although according to the Ministry of Health it is not public. It is the number of quarantined persons that should be taken as a guide regarding the real number of active cases at the moment in the country.
More: COVID-19 drugs given for feline peritonitis in Cyprus
The Ministry of Health also presents data on what proportion of those infected, admitted to hospital and those who died were not fully vaccinated. During the last 24 hours, 53.38% of those infected were not immunized. 66.67 percent of those hospitalized also did not have a vaccine. The only person who died was also not vaccinated.
More: Bulgaria will deliver only the already paid vaccines against COVID-19
The unified information portal also provides data on the administered doses of vaccines. So far, they total 4,613,910, which means there are 20 new doses.
More: A new variant of the coronavirus has appeared in the UK
According to the latest report, 2,077,840 people or 31.96 percent have completed the immunization cycle – two doses of mRNA or one of the "Jansen" company. This figure has seen several drastic jumps and drops in recent months, for which there was no official explanation. On July 13, people with full immunizations decreased by 13,364 from the previous report. The figures also saw a drop between March 20 and 21 by about 9,000 people, and on July 4 they inexplicably increased by 13,385.
946,467 people or 14.56 percent also received a booster dose, with most of them in the capital. A total of 73,897 people have received the vaccine adapted against the Omicron variant.
More: WHO expressed concern about a new variant of Covid
From June 27, 2022, anyone who wishes can take a second booster dose. It should be done at least 4 months after the first booster in individuals whose completed vaccination course is a two-dose vaccine. All persons aged 18 and over who wish to receive a second booster vaccine against COVID-19 can do so at the RZI vaccination points, general practitioners' offices, as well as in inpatient and outpatient medical care facilities.
More: A secret medical laboratory run by a Chinese company was discovered in the US