18 months have passed since the start of the war in Ukraine. During this period, things at the front gradually reached a state of equilibrium. In Donbas, the skirmish line settled in Donetsk Oblast after virtually all of Luhansk Oblast was captured by the Russian army, but a successful Ukrainian counter-offensive in Kharkiv Oblast has led to Ukrainian pressure in Luhansk Oblast as well, where the Russians have ceded some territory and are desperately defending key points along the important line Svatovo – Kremena. In the Kherson region, the Ukrainians have already liberated the city of Kherson, with Russian forces retreating east of the Dnieper, and now the important question is what will happen with the Ukrainian counter-offensive in Zaporozhye, and will the Ukrainian army reach Crimea, as well as break through Bakhmut to Luhansk area. The issue with the Zaporizhia NPP also remains open.
Undoubtedly, the Ukrainian counter-offensive is currently the hottest in the western part of the Zaporozhye region – the direction from Orekhov to Tokmak and Melitopol. There, the situation is extremely dynamic, and the fighting is very heavy, while in the other direction, on the border between Donetsk and Zaporozhye regions (Velika Novoselka – Berdyansk), there is a lull. There, according to the Telegram channel of the "Vostok" detachment, part of the militias of the so-called The DPR (Donetsk People's Republic) Russians use every day and hour without much active fighting to try to rebuild defensive positions destroyed by Ukrainian artillery and breached minefields.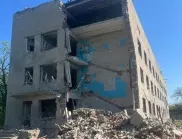 00:17
Russian attack hits five-story residential building in Avdiivka Late in the evening of September 25, in the Donetsk region, Russian occupation forces launched a rocket attack on Avdiyevka, hitting a five-story residential block. According to the acting head of the regional military administration, Igor Moroz, there were no casualties, Ukrinform reported. see more
Check out all the latest news from Actualno.com
More from EUROPE:
Morawiecki urged Scholz not to interfere in Poland's internal affairs
A Russian attack hit a five-story residential building in Avdiivka
Zelensky: We will respond to every attack by Russia against our cities and villages (VIDEO)
Do you know which European countries make the most bookings for travel abroad?
The US is offering Poland a $2 billion loan to modernize its military
Air alert in Sevastopol, the Crimean bridge is blocked (VIDEO)
The Russian Church in Sofia. With epaulettes under the dress
Orbán: The ratification of Sweden's candidacy in NATO is not urgent
Explosion at a fuel depot in Nagorno-Karabakh, there are victims and injured (VIDEO)
The story of the only defender of "Azovstal" who did not surrender and escaped alone (VIDEO)