With the registration of Anton Hekimyan as a candidate for mayor of Sofia from GERB-SDS today, all the unknowns surrounding the upcoming local vote on October 29 have been clarified.
There are six candidates for mayor of Sofia from different parties.
A few days ago, GERB leader Boyko Borisov indicated that the candidate of the GERB-SDS coalition would be a "non-standard decision". Anton Hekimyan was until recently the director of "News and Current Affairs" on BTV, and on Saturday he surprisingly left his position.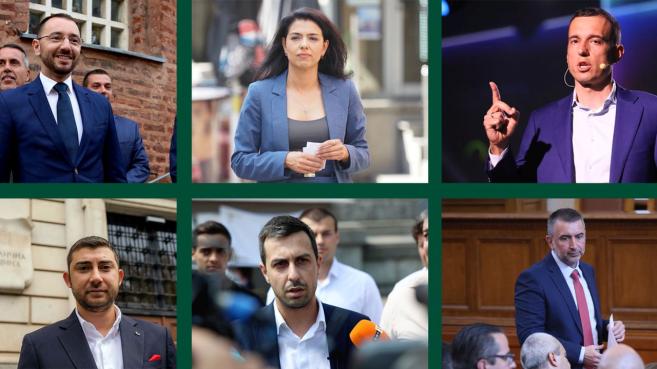 Source bgnes
"We are in a non-standard situation, as Borisov said a few days ago. The decision cannot be easy. I made the decision fully consciously, personally, and after time, which I asked to be allocated to me, to assess the situation. Everything happened last week. I had a personal meeting with Mr. Borisov and personally received an invitation from him to be the GERB candidate for mayor of Sofia. I found out from him that I have nominations from the party structures, and I asked for time to think, because this is not a decision to be made in seconds or minutes. I have been assured that I will have the opportunity to make my decisions independently, we have discussed the team, strategy, people who will work together to make Sofia look even better".
This was said by the GERB-SDS candidate for mayor of Sofia, Anton Hekimyan. He and representatives of the GERB leadership came to OIC-Sofia to register their list of candidates for municipal councilors and him as a candidate for mayor.
"I have been living in Sofia for 20 years. During all this time, as a journalist at BTV, I have criticized. We have condemned actions in SOS, we have looked for solutions and ways to solve citizens' problems. I have had a solution and a comment on every single case that happened here, as a presenter every morning we showed the viewers. My vision for Sofia is for our capital to be an even more modern and green city, to be open to investments, to young people, but above all I emphasize education. No we are also forgetting the big infrastructure projects that will continue to be implemented," Hekimyan also said. "I have been a journalist for 19 years, I have made my way from a reporter to a presenter. 3 years ago I took a director's post at BTV, I admit that I thought about what my development would be after this post. Receiving the offer to be a candidate for GERB , I realized that I want to continue working for society, it will just be on the other side," the candidate also said. What I will do as a campaign is to be close to people and be myself, Hekimyan also said.
He thanked Borisov and the structures of GERB, "without being a party member, I am a citizen like each of you", and added that he will rely on the people behind him from GERB, who are experts in their field, and will continue to they do "the best for Sofia".
The registration of parties and coalitions began on September 4. 51 parties and 8 coalitions submitted documents for registration in the CEC, of ​​which 29 parties and 5 coalitions were registered. Tomorrow, September 26, the deadline for registering more candidates to participate in the local vote expires.
On September 11, DPS paid for its registration for the local vote with 5,000 signatures.
"From DPS we declare that we know people's problems and we know how to solve them," said DPS leader Mustafa Karadai, adding that some people foresee campaigns and communication in the virtual fields. The goal of the movement, however, is not to lose live contact with people and solving their real problems. He expressed hope that the elections in October will not become an arena of battles, confrontations and disunity, but on the contrary – to seek a form of unification and that the competition will be in solving people's problems. "It's time for a new beginning. It is time for unification, not for division and opposition, as some parties are trying to do," stressed Karadayi.
On the same day, the BSP also registered, submitting 6,000 signatures. The left has approved 138 candidates for mayors and lists, and more than 100 more are to be approved. The leader of the Socialists, Kornelia Ninova, stated that they are going very seriously towards the local elections and with a high degree of readiness, stressing that they were the first to accept their pre-election platform.
"For us, the local elections are an opportunity for the real change to happen in Bulgaria, because the change at the top of the parliamentary and legislative power did not happen. There, change and the status quo merged into an unprincipled combination of money and power, and the opportunity to change that is the local elections," Ninova said, and called on citizens to vote in October, because "the change is in their hands." The left sets itself the main goal of changing the "GERB" model.
16 left formations nominated Vanya Grigorova for mayor of Sofia
First the Sofia structure, and then the headquarters of Positano 20 approved Vanya Grigorova's candidacy for Mayor of Sofia.
"Vazrazhdane" registered for the elections for mayors and municipal councilors on September 4, submitting 5,345 signatures. These are the third local elections in which the party will participate.
"Since then, we have had a gradation and we hope that these will be much more successful than all the previous ones," noted Petar Petrov.
The party's candidate for mayor of Sofia, Deyan Nikolov, explained that they have many priorities. "Most of all, I would say that we need a change of philosophy, because in Sofia there has already been one business that subscribes to public procurement for years, and this philosophy needs to be changed," he said.
On September 12, "There is such a people" registered to participate in the elections with 4,800 signatures.
"The parties can start with all kinds of ambitions, but in fact the people decide," said Toshko Yordanov and added that he was convinced that ITN would perform well, stressing that these were the first local elections in which they participated, and from this point of view are freed from any expectations. He is adamant that a revision of the previous administration should be made everywhere, because "thefts and semi-mafia connections that mayors and companies that carry out public procurement have are an open secret." Yordanov categorically stated that "PP and DB are more brutal than GERB" and that "the vile record with the brazenly stated desire for change, legal and illegal, of all public officials and control bodies, is being implemented."
The ITN candidate for mayor of Sofia is Ivaylo Valchev.
A few hours later, the co-chairs of "We continue the change – Democratic Bulgaria" went to register the coalition in the CEC for the local vote with a total of 9,302 signatures.
Kiril Petkov noted that it is no longer a question of a coalition, but of a community, with which they declare that the change continues, that democratic goals and values ​​will now also enter the local government.
Finance Minister and co-chairman of PP Asen Vasilev said for his part that everywhere they managed to unite around the candidates for mayors.
"The current finance minister is the leader of a political party," he explained his presence in the CEC.
Terziev: The GERB-SDS candidate is my biggest competitor in the elections
Hristo Ivanov announced that the goal of the coalition is that in the local elections the Bulgarian municipalities can turn a new page and move forward after a long period of stagnation.
"That's the end of the negotiations. From now on, the hard work begins in the name of victory", the co-chairman of the DB is categorical and added that the main priority is for Bulgaria to be given the opportunity to choose a new future for its local government. And Gen. Atanas Atanasov stated that they are "the new alternative in local government".
PP-DB's candidate for mayor of the capital is Vasil Terziev.
On September 23, VMRO-Sofia registered its candidate for mayor, lists for regional mayors, mayors of town halls and municipal councilors.
"VMRO comes out with the message of security and order. We think that this is the topic on which huge efforts should be made in the capital, especially in the context of the frequent tragedies on the road, related to the topic of road safety. You can see that there are areas and neighborhoods in Sofia, which are extremely insecure. People do not live peacefully, they do not live well, they are afraid. The past years, whether due to the effects of the pandemic or the various crises, deprived the city of investments mainly in security. The idea of ​​VMRO is to deploy a broad program with various proposals so that we can also make our streets and neighborhoods safer so that our parents and our children can have peace of mind. A city that does not have security cannot develop at the pace that we all want," the candidate said. for Mayor and Chairman of VMRO-Sofia Carlos Contrera.
He commented on his expectations for the upcoming election campaign. "The first expectation is to hold a campaign in which the citizens of Sofia find out who is proposing what and how they will do it. For the moment, we have a common political talk and, unfortunately, so-called big favorites – some do not have a candidate, and the others do not have any specifics," said Contrera.
Source bgnes