An air alert was announced in Sevastopol this evening, TASS reported.
The Russian governor of the city, Mikhail Razvozhaev, announced this on his Telegram channel.
"Attention everyone. Air raid warning," he wrote.
Admiral Viktor Sokolov was killed in the Ukrainian attack in Sevastopol
The Directorate for the Development of Road Transport Infrastructure of the city of Sevastopol added that during the air attack sea and land public transport stopped moving.
In the photo you can see the moment when a Ukrainian missile hits the headquarters of the Russian Black Sea Fleet, and a second one flies towards it.
According to Ukraine, 34 Russian officers, including the commander of the fleet, Admiral Viktor Sokolov, were killed and 105 wounded in Friday's attack. Russia reported one missing serviceman and 5 downed missiles.
Alarm in the sky over Sevastopol, new explosions shook the city
Both sides confirm that British Storm Shadow stealth missiles were used in the attack. Since they cost over $3 million each and are limited in number, it is highly unlikely that Ukraine fired any other than the two that hit the headquarters.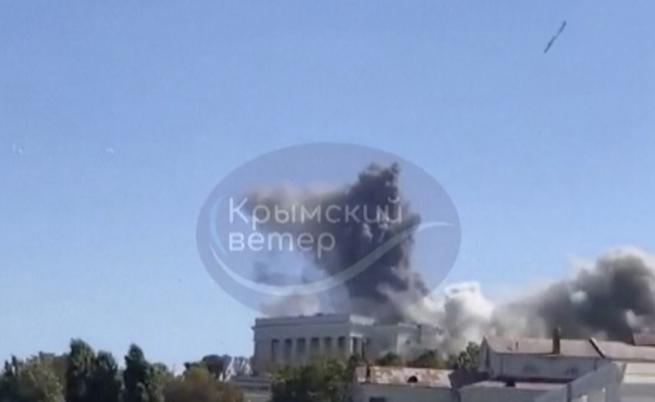 Source: AP/BTA
Source: TASS, CNN