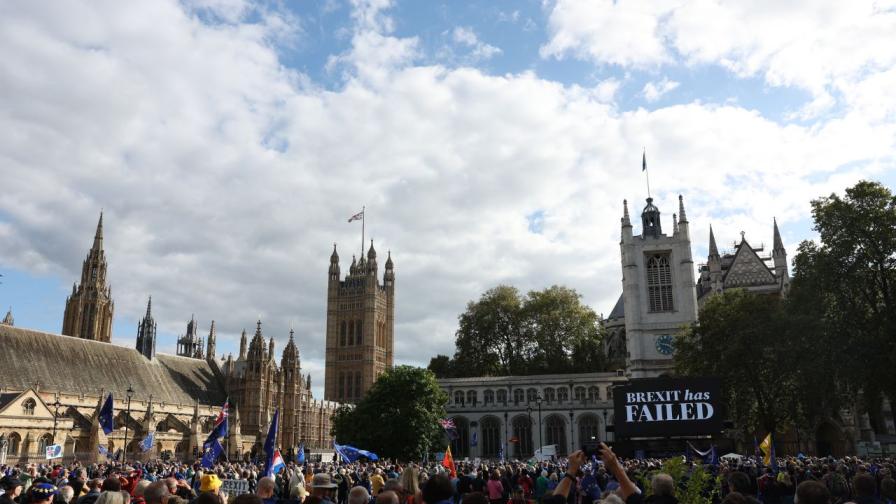 Anti-Brexit activists demonstrated in central London for Britain's return to the European Union.
"Protesters formed a sea of ​​blue and yellow colors in central London, calling for Britain to join the EU," the Independent reported. These are the colors of the EU flag.
Protest against Brexit today in London! #JoinEU #Rejoin @UKLabour take note… pic.twitter.com/EWXA9s6jTi
— 🗣️🎤 🎛️ Mike Wyeld 🔈🔉🔊 (@MikeWyeld) September 23, 2023
Saturday's national march to join drew more than 3,000 people. The convoy of participants made their way from Park Lane to Parliament Square, where various speakers addressed the crowd, including former Belgian Prime Minister Guy Verhofstadt. According to the media, this is the second annual march for Britain's return to the EU, but this year fewer people took part in it.
Brexit protest at London. pic.twitter.com/iLN66Pj0zf
— Kaan🇹🇷 (@Kaan_turk_footy) September 23, 2023
Earlier, the Telegraph newspaper, citing a report on EU enlargement prepared by France and Germany, identified the United Kingdom as a potential partner of the European Union in its capacity as an "associate member". In a referendum in June 2016, 52% of Britons voted to leave the European Union.
Source bgnes