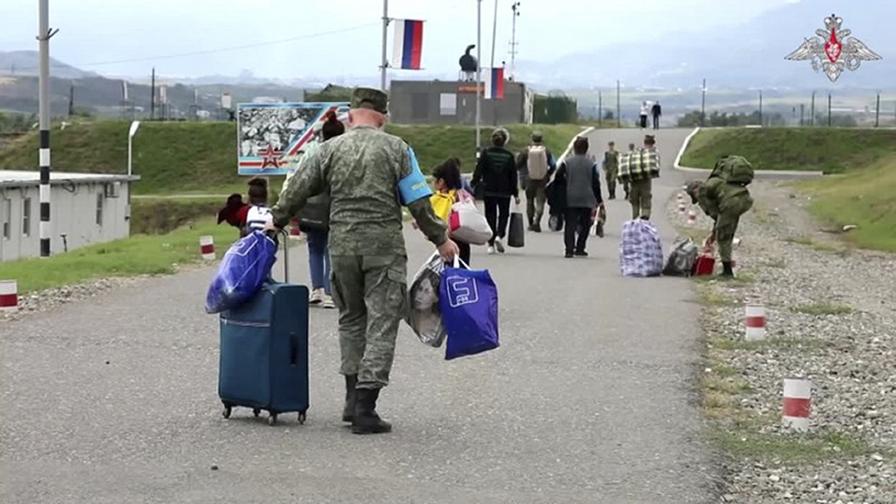 1,050 refugees from Nagorno-Karabakh have already arrived in Armenia, Reuters reported, citing authorities.
According to the cited source, people drove en masse in cars from Stepanakert (called Khankendi by Azerbaijan) to Armenia.
On Wednesday, Azerbaijan regained control of the district, which is part of its internationally recognized territory but is populated predominantly by Armenians.
The first refugees from Nagorno-Karabakh arrived in Armenia today, Reuters reported earlier. Agency reporters said they saw hundreds of ethnic Armenians in the town of Goris, near the border with Azerbaijan.
Nagorno-Karabakh: Ethnic Armenians to leave breakaway region
According to data from the Armenian government, as of 6 p.m. (5 p.m. Bulgarian time), 377 refugees have entered the country.
Russian peacekeepers in the region have escorted 311 ethnic Armenians from Nagorno-Karabakh to Armenia, the Russian Defense Ministry said in turn.
Earlier today, David Babayan, adviser to the "president" of the Nagorno-Karabakh-proclaimed "Republic of Artsakh", Samvel Shakhramanyan, told Reuters that all 120,000 Armenian residents of the area will go to Armenia, as they do not want to live in Azerbaijan and fear ethnic cleansing.
Armenia-Azerbaijan summit on October 5 in Spain
Azerbaijani authorities say they will reintegrate the region and guarantee the rights of its Armenian residents, the agency noted.
Armenians in Nagorno-Karabakh are likely to leave the region and Armenia is ready to accept them, Prime Minister Nikol Pashinyan said this morning.
There are calls in the country for Pashinyan's resignation for failing to help Armenians in Nagorno-Karabakh. And today, many demonstrators have gathered in front of the government building in the capital, Yerevan.
Armenia demands that the UN "immediately" send a mission to Nagorno-Karabakh
Pashinyan publicly accused Russia of not doing enough to help Armenia and made it clear that Yerevan would review its alliance with Moscow, Reuters noted. In response, Russian officials said the Armenian prime minister had only himself to blame and recalled that they had repeatedly warned him that his country, which borders Azerbaijan and its powerful ally Turkey, does not have many friends in the region.
Source: BTA, Nikolay Stanoev