Semen Novikov qualified for the quarterfinals of the Olympic category up to 87 kg of classical style from the World Wrestling Championships in Serbia. It is also the first Olympic qualification, and with another victory, the Bulgarian national will be very close to the first quota for the nationals.
Abu-Muslim Amaev and Ivo Iliev will wait for qualifying for repechages.
Novikov started the tournament against Mohamed Metuali and quickly defeated the Egyptian 9:0. The Bulgarian international then faced 2018 world champion Lasha Gobadze, with whom he took bronze medals at 87kg at the European Championships this spring. The Bulgarian did not move on the ground in the first part, and in the last seconds he took out the Georgian for two points and a 2:1 lead. Novikov expectedly added another grounder in the second half and made another flawless defense for the final 3:1.
In the quarterfinals, the Bulgarian national will meet the Swedish national Alex Cassidis, who is the world vice-champion since 2019.
Meanwhile, in the other part of the circuit, last year's bronze medalist Ali Cengiz of Turkey defeated reigning Olympic champion Zhan Beleniuk of Ukraine 3-1.
Amaev defeated Akmirat Heldyev of Turkmenistan 11:0 at the start of 63 kg, then lost in the round of 16 with 1:7 against Hrachiya Pogosyan. Thus, the Bulgarian national will hope to be drawn in a repechage by the Armenian, who won with five unanswered points this spring at the "Dan Kolov – Nikola Petrov" tournament. Poghosyan's opponent is Murad Mammadov from Azerbaijan.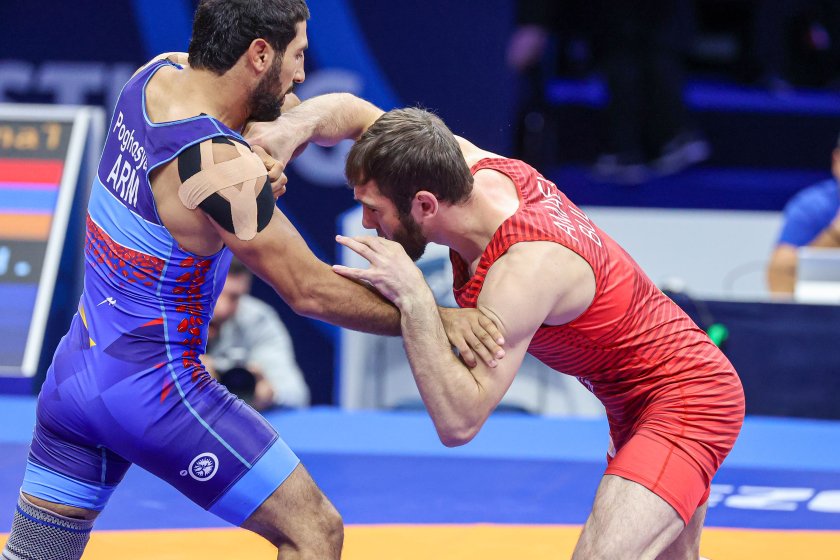 Ivo Iliev lost by 0:7 at the start of 67 kg against the Georgian Ioni Hetsuriani, who in his next fight prevailed against the competitor with neutral status Alexander Lyavonchik. Khetsuriani's opponent in the quarterfinals will be Amantur Ismailov from Kyrgyzstan.
Watch the world wrestling championship – every night from 19:00 LIVE on BNT 3!
Follow our channel "Sport on BNT" in Viber
Follow us on Facebook to stay up to date with the latest sports news
Find BNT on social networks: Instagram, Facebook, LinkedIn, TikTok