The coach of Levski Nikolay Kostov sharply criticized the fans of Levski from Sector B after the team's difficult victory over Eter. The specialist was adamant that the supporters' behavior upset him and asked them how long their protest against the club's management would continue.
Levski fans incurred the wrath of Kostov after they once again lit hundreds of flares and smokes in the second half, which brought the game to a halt for several minutes. The coach of the "blues" was adamant that the team does not gain anything from their behavior, especially when they lead the events on the field and instead of scoring, the match is stopped.
Nikolay Kostov did not spare his criticism of the fans
"I didn't expect to come across things that I don't even want to comment on. The game is interrupted quite a bit, not only by the fall of the players, but also by these moments with the torches. Maybe our fans should think about what effect this has on our players. We just find some tempo and the game is stopped for 7-8 minutes. I didn't foresee that at all."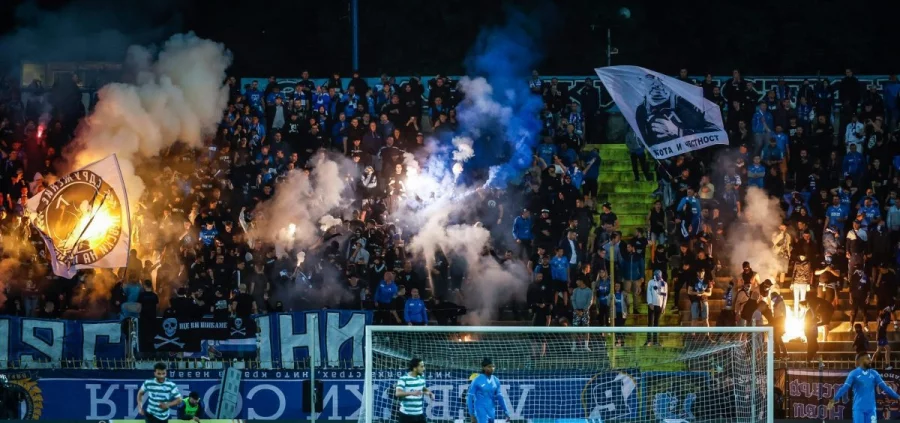 "I'm very interested in when this protest will end because it's not pleasant. It affects the players. For example – the flag "Levski is eternal" is turned upside down in every match. I feel sorry for this thing. Some solution has to be found now. I think about these things, not about the game. I am bitter about these things. I didn't even manage to laugh at the victory," said Nikolay Kostov.
Levski followed the tradition and won once again this season with a goal at the end of the match.
Check out all the latest news from Actualno.com
More from FOOTBALL BG:
Tradition dictates: Levski lied to Eter with a goal at the end and came out third (VIDEO)
Lokomotiv Plovdiv tied a "bearded" record after victory over Slavia (VIDEO)
Ljubo Penev erupted again: VAR stole 4 points from us
Arda left Heber no chance and entered the top six (VIDEO)
Nazon complained of racism at 'College', 10-year-old kid called him 'monkey' (PHOTO)
When and where to watch Levski – Eter in the First League
CSKA survived the hell of "College", the "reds" subdued Botev Plovdiv (VIDEO)
Icelandic veteran saved CSKA 1948 against the Black Sea (VIDEO)
A terrible mistake brought the victory of Botev Vratsa over the "foreign" Beroe (VIDEO)
In Eter, they are trying to steal points from Levski