"President Osmani violated the constitution in Mamushë"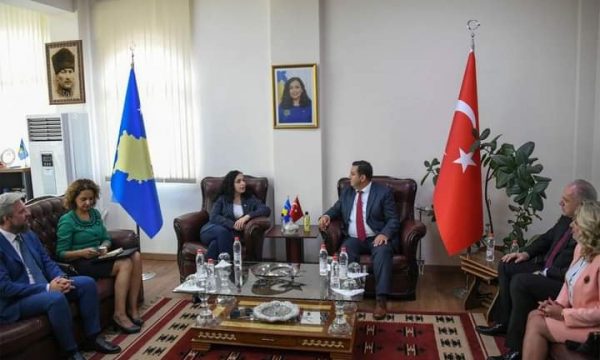 The political analyst, Nexhmedin Spahiu, said that the president of Kosovo, Vjosa Osmani, violated the Constitution of Kosovo during the meeting with the chairman of Mamusha, Abdülhadi Krasniç.
This is because, according to Spahiu, the mayor of Mamusha Municipality should not have the flag of Turkey behind him, thus violating the constitution – just like Osmani who accepted this format.
"The flag of Turkey, Kosovo's strategic ally, can be used freely in Kosovo, but in the office of the mayor of Mamusha (or any other municipality of Kosovo) based on the law on symbols, it can only be displayed when the mayor meets with any official of the Republic of Turkey", wrote Spahiu on Facebook.
According to Spahiu, "this photo shows the violation of the law by the Mayor of Mamusha and the violation of the law by the President of Kosovo".
"But unlike the mayor of the municipality, when the President violates the law, it is also a violation of the Constitution. And the President is doing this for the second time. The first time he did it in a meeting with the mayor of the Municipality of Gjilan", he said.
On Tuesday, the president, Vjosa Osmani, visited the Municipality of Mamusha. /Express