Rama for the French media: The integration of the Balkans brings security and unity to Europe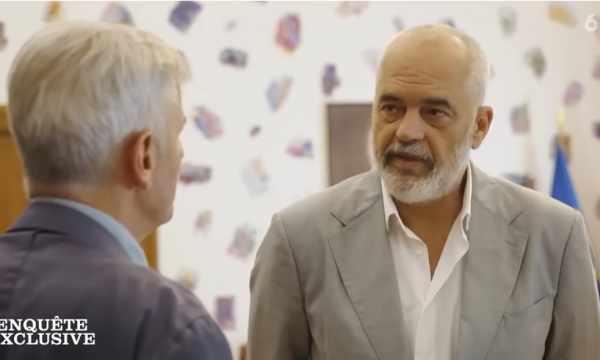 Prime Minister Edi Rama said in a report of the French channel "Metropole" that little by little a change has started regarding the image of Albania in France and more and more French people are coming to our country.
In the report "Exclusive Investigations", Rama also spoke about the progress of the EU integration process.
As the journalist says in the report dedicated to our country, behind this success is a man who has been working for nine years to make Albania more European than ever.
The Prime Minister emphasized that "it is not a predictable process, because it is a permanent policy in the Union, the internal policy of the countries".
But according to him, "we must build a legal state".
"I remember something that Michel Rocard told me a long time ago: You must understand that negotiating with the European Union to join it is a process of raising your country. We must build a legal state", said the Prime Minister.
On the other hand, Rama emphasized that "the image that has been created for our country abroad is a stereotype for Albania and far from the Albanian reality".
"I don't want to say that there is no corruption, in any case, Albania has problems with corruption precisely because we still do not have the rule of law and institutions capable of fighting all these phenomena", he added.
Asked what Albania will bring to Europe, the Prime Minister underlined that "Albania is one of the countries of the Balkans".
"I think it is more concrete what the Balkans can bring to Europe. More security, not only in the military sense, but also in the fight against illegal immigration, drugs, more security, more unity, because it is a bit like the stomach of Europe. Therefore, it is not a good idea to have the stomach separated from the body, because it can create many problems", he added.
To the question whether this is the last mandate or he intends to continue further, the Prime Minister answered: "Let's see, I have learned that life is what happens while we make other plans. We should let life decide instead of pretending to decide for life."
Rama assessed that "little by little, a change has started regarding the image of Albania in France".
"More and more French are coming to Albania. It's really great that this is changing. And what's more, when people come to Albania they are left speechless, because the Albania they find is completely different from the Albania they imagined reading these stereotypical articles about crime, drugs, mafia," he said.
Also, when asked by the journalist how he draws during meetings, Rama says that "it's the eye and the hand that work together, while the ear and attention are on the one who speaks." I can do this when others are talking"./abcnews.al