Kurti congratulates Truss for the post of prime minister, expects to work with him for mutual recognition with Serbia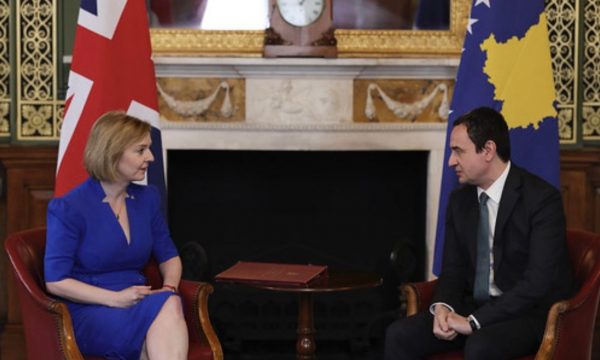 Prime Minister Albin Kurti congratulated the Prime Minister of Great Britain, Liz Truss, on her new position.
Kurti has published photos from the meeting with Truss in London when the latter was Secretary of State for Foreign Affairs, Express reports.
He has said that he expects to work with Truss, including in achieving mutual recognition with Serbia.
"Congratulations to the new leader of the UK Conservative Party Liz Truss. I look forward to working with Prime Minister Truss on shared values ​​and priorities, including the rule of law, economic progress, mutual recognition between Kosovo and Serbia, and increased security in the face of Russian aggression," Kurti wrote.
Congratulations to new UK Conservative Party Leader @trussliz. I look forward to working w/ PM Truss on shared values & priorities, including rule of law, economic progress, mutual recognition between Kosova & Serbia, and enhanced security in the face of Russian aggression. pic.twitter.com/tbnL82EgQQ

— Albin Kurti (@albinkurti) September 6, 2022