Bujar Osman's connections with the new prime minister of the United Kingdom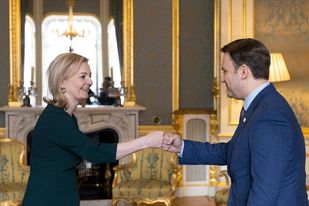 Supporter of the integration of the Western Balkans. Mike of North Macedonia, but also of regional initiatives aimed at opening perspectives for North Macedonia and for the entire region. Lizz Truss will succeed Boris Johnson as Prime Minister of the United Kingdom.
In the last meeting between the chief diplomat Bujar Osmani and the current Secretary of State for Foreign Affairs, Commonwealth and Development of the United Kingdom of Great Britain and Northern Ireland, Liz Truss, it was established that the implementation process of the Agreement on Partnership, Trade and Cooperation between North Macedonia and the United Kingdom is a very important component in the development of general relations.
In the same meeting, last year, Osmani and Truss jointly confirmed the necessity of the intensification of the United Kingdom in the region, with the aim of the stability and prosperity of North Macedonia and not only.
We recall that the Diplomacy of North Macedonia led by Bujar Osmani has reinforced the country's position alongside the USA, the United Kingdom and the EU.
Truss is an ironclad, ultra-liberal neo-Thatcherian. Liz has become the flagship of Global Britain, that global Great Britain, which, thanks to Brexit, has recovered an autonomous trade policy, outside the European Union, which she describes as "protectionist".