Afghans in Albania hope to resume life in the US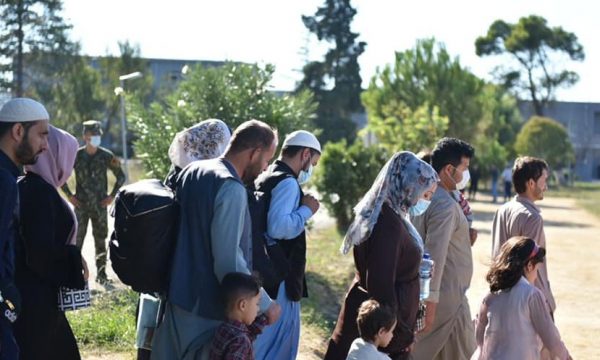 Afghans evacuated to Albania last year are still waiting to move to the United States.
Many of them follow the developments in Afghanistan while remaining trapped in Shengjin, about 70 kilometers northwest of Tirana.
Hundreds of refugees who fled Afghanistan after the Taliban retook control of their country more than a year ago remain stranded in Albania, waiting for the promise of a permanent transfer to the United States to materialize.
Many say the news from Afghanistan and the long wait to receive documents for final resettlement have begun to strain their conditions, but they remain hopeful.
"I always think that we lost our youth in Afghanistan", says Firooz Mashoof, whose parents, brothers and sisters remain in his hometown of Herat in Afghanistan.
Firooz Mashoof is living in Shengjin. He had hoped it would only be a short stay.
Firooz Mashoof – still officially a spokesman for the Afghan Football Federation – says the past year of his life has been filled with "difficult days".
Two weeks ago, Firoozi's wife – who was also evacuated to Albania – gave birth to their first child, a girl.
"I just hope my daughter grows up away from the war and moves on with her life in America. I don't want my daughter to experience what we went through and now that's the only goal in my life." says Firoozi, showing hope that this "it will happen a little faster".
About 2,400 Afghans were evacuated to Albania in August and September 2021 and given temporary shelter in Shengjin.
Non-governmental organizations from the United States and other countries provided financial support for their housing.
The Albanian government said at the time that it would house several thousand Afghans for at least a year before they were transferred to the United States.
Recently, the government pledged to detain them for more than a year if their visas to the US are delayed.
The long wait for a chance to restart their lives in the US is difficult for the evacuees, but many have only good things to say about the way they are treated in Albania.
Rabia Yaqoobi is a young soccer player from the northern Afghan city of Dehdad who lives in Shengjin.
"Life is good here, I can train even though we don't have proper ground and equipment. But still, we come here to this sports ground and train, and I also work in a restaurant. So I continue my life as I did in Afghanistan, train and work. When I go to America, I want to continue my career as a soccer player." says Rabia./VOA