Who is Liz Truss, the new British Prime Minister?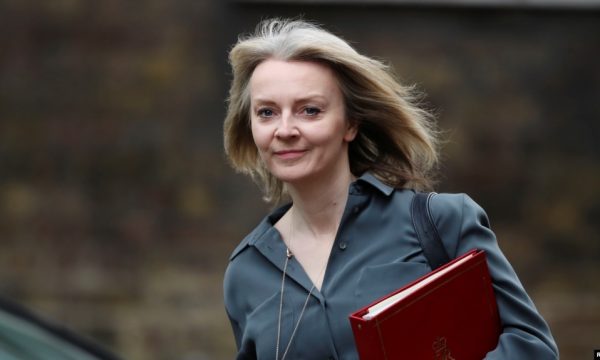 As a child, Liz Truss marched in demonstrations against then Conservative Prime Minister Margaret Thatcher.
As an adult, he admired that woman – Britain's first female leader – and now Truss herself will lead Britain with a view to transforming the United Kingdom.
Truss, who has until now held the position of British Foreign Secretary, has emerged as the winner in the race to replace Boris Johnson as leader of the Conservative Party and prime minister.
The party said Truss won around 57 per cent of its members' votes, compared to 43 per cent for former Treasury chief Rishi Sunak.
Truss, 47, will become Britain's third female prime minister, after Thatcher, who led from 1979-1990, and Theresa May, who held the position from 2016 to 2019.
Conservative Party members have backed Truss because of her pledges to cut taxes and continue Britain's support for Ukraine.
Some see elements of the Iron Lady – as Thatcer is known – in Truss's vision to preserve democracy in the world.
To critics, Truss is an inflexible ideologue whose right-wing policies will not help Britain avoid the economic turmoil caused by the coronavirus pandemic and Russia's war in Ukraine.
Born in Oxford in 1975, Mary Elizabeth Truss is the daughter of a maths professor and a nurse, who took part in anti-Thatcher protests as a child.
She remembers shouting at the protests: "Maggie, Maggie, Maggie — out, out, out!
In a 2018 speech, she said that she later began to develop her own political views and spoke out against "socialist parents with leftist views".
Her family lived in Scotland before moving to England, where Truss attended a public school, something that sets her apart from many of her Tory colleagues who were educated at private schools.
She was then accepted to the University of Oxford, where she studied philosophy, politics and economics – fields studied by many aspiring politicians – and was president of a branch of the Liberal Democratic Party, which operated within the university.
After Oxford, Truss joined the Conservative Party – "even when it wasn't fashionable", she later said.
Truss has worked as an economist for the energy company Shell and the telecommunications company Cable and Wireless.
In 2009, Truss won a seat in Parliament after a row – with some Tories outraged when it emerged she had an affair with another MP when they were both married.
She has overcome the criticism and her marriage has survived.
Truss and her husband, Hugh O'Leary, have two teenage daughters.
David Laws, a former cabinet minister in Britain who worked with Truss a decade ago, described her as a woman of energy and ambition.
Truss won her first Cabinet job as Minister for Food and Environment in 2014.
During that time, she made a name for herself with a speech in which she said it was a "shame" that Britain imports two-thirds of the cheese it consumes.
In the 2016 referendum on Britain leaving the European Union, Truss sided with those who opposed the departure, although she has said several times that she is Eurosceptic.
She was subsequently Minister of Justice, but was later given a junior position in the British Treasury in May 2017.
With Theresa May out of power, Truss has backed calls for Boris Johnson to replace her.
After winning, Johnson made Truss trade minister.
In September 2021, she has been appointed Britain's chief diplomat.
There are mixed opinions about her work.
Many praise him for his handling of Russia's war in Ukraine and his ability to secure the release of two British citizens imprisoned in Iran.
But EU leaders, and other officials who hoped that it would take a softer tone in Britain's relations with the European bloc, have been disappointed.
Truss has often suggested that the frequent comparisons to Thatcher are sexist, but has sometimes even encouraged them.
As for the rest of her life – outside of politics – friends say she is a woman of good humor and enjoys karaoke nights to the sounds of stars such as Taylor Swift, Whitney Houston and Destiny's Child.
Truss's loyalty to Johnson, who remains popular with many Tories, is believed to have helped him win.
Many believe Sunak's decision to quit Johnson's cabinet in July has hurt his race.
Although she will be at the helm of the Government, Truss will not have much time to convince the voters and she is on the right track.
The next election in Britain is due in two years.
The future is getting more difficult, due to the increase in inflation, which directly affects the pocket of the British.
Truss' focus on stimulating economic growth through tax cuts is not expected to bring much relief in the short term.