"Why haven't you expelled him from Serbia yet", Rama reveals the conversation with Vucic after he told him to recognize Kosovo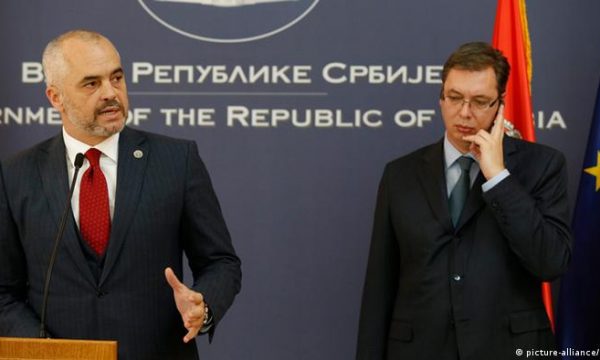 Prime Minister Edi Rama has shown a conversation he had with Serbian President Aleksandar Vucic after the statement made by him in 2014 in Belgrade, where he said that Serbia should recognize the independence of Kosovo.
In an interview for "Euronews Serbia", Rama said that Vucic was left depressed and was angered by his statement.
Rama said that after the conference, Vucic was with his team, who asked them to expel him from Serbia.
"In 2014, we risked secession again for another 68 years, as Aleksandar was disappointed by my statement at the press conference in the Palace of Serbia, that Serbia should recognize Kosovo. He got angry and I remember well that when we finished the conference we had a small talk before lunch. He was there with his team, they all surrounded him, it was like a tower surrounded by walls. I approached him and he said: do you know what they are telling me? No, you told him. Why haven't I expelled you from Serbia yet? I told him, I'm not surprised, that's why you're the president and those are your advisers", the head of the Albanian government emphasized.
Among other things, Rama underlined that Vucic had told him how he would react if he said in Tirana that Serbia will not recognize Kosovo.
"Then we met here again in the evening, we took a walk, he was still tense, but we realized that if we continue like this, shutting each other's mouths on this issue, it will not be possible to build a relationship . He told me, what if I come to Albania and say that we don't know Kosovo? I told him, you can come and say whatever you want and I will never behave like you did here. But this is no reason not to continue the dialogue. And I think there is more capacity to be understood. Building capacities to be understood is the same as building peace", concluded Rama./Euronewsalbania/