The scene of the murder in Tirana lasted 14 seconds, the perpetrator in a serious psychological state, remained silent before the police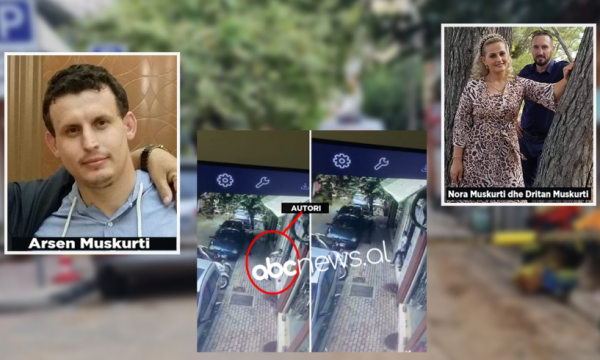 ABC journalist Xhensila Kodra revealed new details regarding the double crime in Tirana, where Arsen Muskurti killed his brother Dritan Muskurti and sister-in-law Nora Muskurti with a pistol.
As can be seen in the video provided by journalist Kodra, it seems that the entire crime scene lasted only 14 seconds, starting from the moment when Arsen Muskurti enters the door of the agency with a pistol in his hand, and then leaves.
Sources for journalist Kodra inform that it was the residents who first reported the incident, who remembered earlier that it was about a shop shutter, but then they saw traumatized by what had happened.
Meanwhile, Arsen Muskurti was handcuffed by the police only a few minutes later in the "5 Maji" neighborhood, where his wife, son and a lawyer were also present during the arrest.
The sources confirm for journalist Kodra that the author of this serious crime was in a serious psychological state and did not declare anything to the police.
While it is not yet known whether he has spoken to the lawyer or not.
/Abcnews.al/