335 cases and one loss of life have been recorded in the last 24 hours from Covid19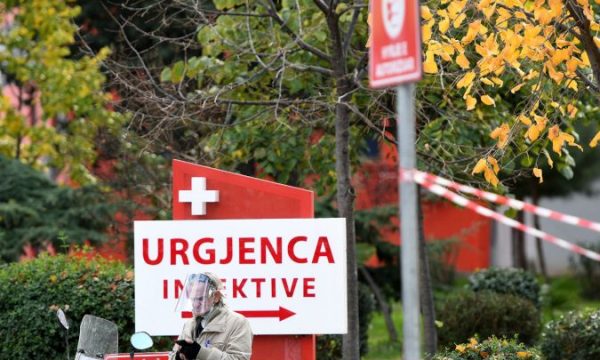 The Ministry of Health has published the Covid19 report for the last 24 hours, where it is known that 335 new cases, one loss of life and 363 recoveries have been recorded.
We inform you about the situation in the last 24 hours, as follows: 1,200 tests have been carried out, of which 335 citizens have tested positive for COVID-19, in these municipalities:
119 in Tirana, 28 in Shkodër, 16 in Vlorë, 15 in Fier, 14 in Durrës, 11 in Gjirokastër, from 9 citizens in Lushnje, Devoll, from 8 citizens in Krujë, Divjakë, Sarandë, 7 in Kamëz, from 6 citizens in Kurbin, Kavajë, Korçë, Berat, Gramsh, from 5 citizens in Mallakastër, Peqin, from 4 citizens in Himarë, Dimal, from 3 citizens in Pukë, Vorë, Pogradec, Kolonje, from 2 citizens in Malësi e Madhe, Mat, Dropull, Këlcyrë, Tepelën, from 1 citizen in Kukës, Lezhë, Dibër, Roskovec, Patos, Përmet, Memaliaj, Maliq, Kuçovo, Skrapar, Poliçan, Elbasan, Librazhd.
There are 3,090 active citizens with Covid19 throughout the country.
Currently, 15 patients are receiving treatment at the COVID3 hospital. In the last 24 hours there is a loss of life with Sars-Cov2: a 71-year-old citizen from Librazhdi.
363 citizens have recovered during the last 24 hours, bringing the number of recoveries to 321,533 since the beginning of the epidemic.
Statistics (31 Gusht 2022)
335 new daily cases
Healed in 24 hours 363
Hospitalized 15
Loss of life in 24 hours 1
1200 daily tests
Total witnesses 1,962,201
Positive cases 328,206
Recovered cases 321,533
Active Cases 3,090
Loss of life 3,583
Geographical distribution of active cases by counties:
Tirana 1,459
Iron 318
Shkodër 229
Elbasan 213
Durrës 196
Korça 186
Vlora 152
Gjirokastra 119
Weight 92
Lezha 61
Diber 53
Kukës 12