After Meta, also Kryemadhi in the investigation? How SPAK responds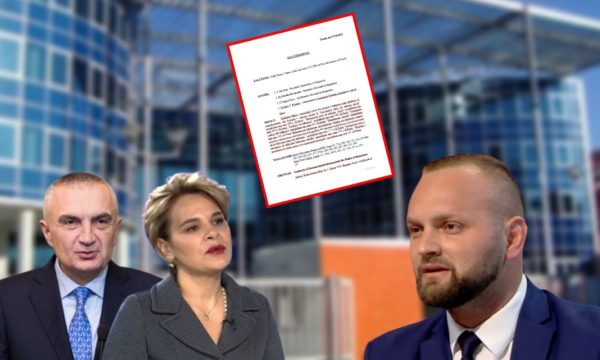 The Special Prosecutor's Office against Corruption and Organized Crime announced yesterday that it has placed former president Ilir Meta under investigation after the report of former deputy Halit Valteri, who entered the parliament from the DP list, but was used by the socialists with the reward to enter list for selection and in the end was left out.
In Valter's report to SPAK, it was not only Ilir Meta accused of lobbying in the USA, but also Monika Kryemadhi, Vangjel Tavo and Iraklis Fidetzis. And while the investigations started for the chairman of the Freedom Party, what is happening with Kryemadhi?
"5pyetjet.al" turned to SPAK to ask what is the status of Monika Kryemadhi regarding this file? But SPAK did not provide details, adding to the mystery. "We have no announcement to make, regarding what you ask"said the Special Prosecutor's Office for "5pyetjet.al".
For the former head of state, the investigations started from the name because his official surname is "Metaj", but in fact the one he uses and is known by all is "Meta".
At the beginning of August, SPAK turned to the Civil Registry and now to the CEC for the self-declaration form of the leader of the Freedom Party when he was a deputy.
The criminal report filed by former MP Halit Valteri
CLAIMANT: Halit Xhezar Valteri, born on 21.05.1991 in Fier and resident in Tirana.
AGAINST:
1. Mr. Ilir Meta – President of the Republic of Albania,
2. Mrs. Monika Kryemadhi – Member of Parliament of Albania
3. Mr. Vangjel Tavo – Former Member of Parliament of Albania,
4. Mr. Iraklis T. Fidetzis – Administrator of the company Dorelita Limited with headquarters in Cyprus.
LEGAL BASIS: Criminal Procedure Code of the Republic of Slovenia: Articles 25, 75/a, 149, 150, 151, 152, 153 to
165, 228, 229, 244, 277, 279/a, 280, 281, 283, 287, 304, 331, 390.
Kodi Penal i RSH : Nenet 25, 164/a, 164/b, 180, 181, 248,257/a, 259, 287.
DIRECTED: Special Structure against Corruption and Organized Crime/5pyetjet.al