Is Serbia lining up? Vulin from Moscow calls EU sanctions against Russia 'hysteria'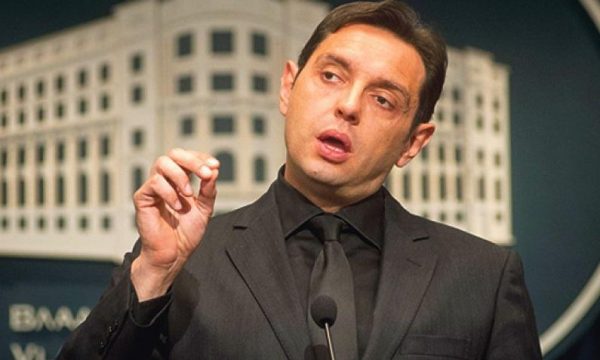 Serbian Interior Minister Aleksandar Vulin met with Russian Foreign Minister Sergey Lavrov on Monday in Moscow, a rare visit by a state official from a European country. Vulin emphasized Belgrade's refusal to join Western sanctions against Russia over its war in Ukraine.
The Serbian Interior Minister, who is known for his pro-Russian and anti-Western stances, stated that he told the Russian top diplomat, Sergei Lavrov that "Serbia is the only country in Europe that has not imposed sanctions and has not been part of the anti-Russian hysteria."
Serbia, which officially seeks membership in the European Union, has been moving away from its path towards the EU for years and is turning more towards its traditional Slavic ally, Russia, but also China.
Minister Vulin is considered the "Man of Moscow" within the Serbian government.
He has advocated the creation of a "Serbian world" that would unite all Serbs in the Balkans under a banner led by President Aleksandar Vučić.
The latter reacted harshly on Monday during an interview with the British public radio, BBC, when he was asked about his contacts with Moscow and after the journalist mentioned the accusation of the prime minister of Kosovo, Albin Kurti, that it is in Moscow's interest to move the conflict elsewhere , to destabilize Europe.
Raising his voice, Mr. Vucic said "I haven't talked to them (Russia) for a long time. The last time I spoke with Putin was 3 or 4 months ago, regarding the problem of gas supply. They (Kosovo) only want to exploit Russia by talking about it. Everyone knows that these accusations are complete failures and brutal lies. We have a neutral army, but in the meantime we will take care of ourselves".
The Serbian President met with the Prime Minister of Kosovo, Albin Kurti on August 18 in Brussels within the dialogue mediated by the EU. The more than five-hour meeting ended without an agreement, although it was held mainly to defuse the tensions of July 31 when Serbs in northern Kosovo blocked roads in response to the Kosovo government's decision on reciprocal measures, including the conversion of license plates issued by Serbia with license plates of the Republic of Kosovo.
Asked about Mr. Vulin's visit to Moscow, which the journalist called "interesting" for the time in which it is taking place, the Serbian President said that "You believe it's interesting. But wasn't it interesting when Karl Nehammer, the leader of Austria was there, or wasn't it interesting when the Turkish president, the second most powerful NATO country, visits Moscow, you say it's only interesting when one of the government ministers of Serbia is visiting Moscow", said the Serbian president.
Mr. Vucic recalled that Serbia has condemned the attack on Ukraine at the UN. It is true that we are traditional friends and have good relations, but are we their puppets, no we are not – Aleksandar Vucic, President of Serbia
"Yes, it is true that we are traditional friends and we have good relations, but are we their puppets, no we are not", said the Serbian leader.
Serbia's technical government member Aleksandar Vulin, however, has spoken openly about how Serbia should abandon its EU membership goal and instead turn to Moscow, and he has often attacked Serbia's neighbors and their leaders, calling them those with derogatory names.
Last year, Mr. Vulin had created a "working group" with Nikolai Patrushev, the Kremlin's powerful Security Council secretary, to fight "color revolutions" or mass protests that have led to the overthrow of regimes in countries of the former The Soviet Union, the former Yugoslavia, the Middle East and Asia.
According to the "Associated Press" news agency, independent Serbian media reported that Mr. Vulin at the end of last year handed Nikolai Patrushev wiretapping from a meeting held in Belgrade by members of the Russian opposition. Russian dissidents, finding it difficult to hold such meetings in Russia, chose Belgrade to meet as they do not need visas to enter Serbia.
Soon after, some of those who participated in the meeting held in Belgrade were arrested in Russia.
"Associated Press" writes that Mr. Vulin was not convincing when he denied having handed over to Mr. Patrushev the tapes with the recording of the meeting in Belgrade.
Serbian opposition officials have questioned the purpose of Mr. Vulin's visit to Moscow, as a new Serbian government is expected to be formed after general elections in April. Most believe his trip to Russia was arranged by Moscow as a way to pressure Belgrade to include him in the new cabinet.
Russian top diplomat Sergei Lavrov had planned to visit Belgrade in June, but Serbia's NATO neighbors refused to allow his plane to fly over their territory.
Minister Vulin said in a statement from Moscow on Monday that he "feels deep regret" for the fact that Minister Lavrov was prevented from visiting Belgrade in June by the will of other countries, emphasizing that by stopping the official visit of Minister Lavrov to Serbia, all the principles of international law have been violated."
Part of this material was taken from AP