"Walks in the chicken coops and stays away from the paparazzi", photo from the luxury villa where Boris Johnson is staying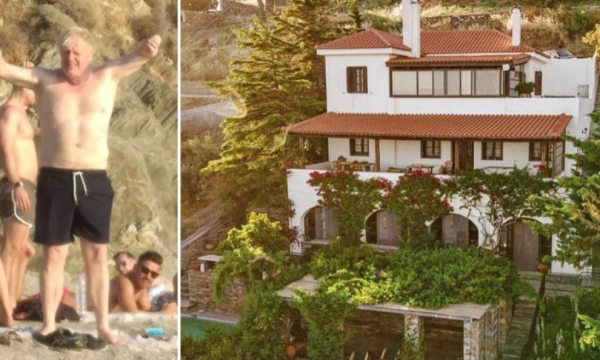 In one of the most beautiful houses of Karystos, in the area of ​​Mekounida in Greece, the outgoing British Prime Minister, Boris Johnson, is staying during the summer holidays.
It is not the first time that the well-known politician visits the area.
Boris Johnson, known for his philhellenism, has Greek-British friends in the Mekounida area of ​​Karystos, reports abcnews.al.
The stone-built house is a real paradise. Therefore, the well-known politician chooses it every year for relaxation.
Boris was spotted in Karysto having previously made a stop in Nea Makri where he was caught on camera at a supermarket.
With an entire army of bodyguards at his disposal, he crossed into Evia to go to the rest house.
Boris has been integrated into the Greek lifestyle for years.
It is no coincidence that when he went to the holiday home, the space was "flooded" with Greek flowers.
Residents talk about a Boris that in this quiet area of ​​Evia has nothing to do with the stern face of the former prime minister who led the country towards Brexit.
It is said that together with his wife he roams around the chicken coops, enjoys nature and stays away from the prying eyes of photographers.
In addition, the area has no paparazzi.
The few photos published in the media have come from passers-by who simply happened to encounter him on the street.
Boris Johnson is said to stay in the area until the end of this week./Abcnews.al/