Biden signs law on climate, health care, taxes and inflation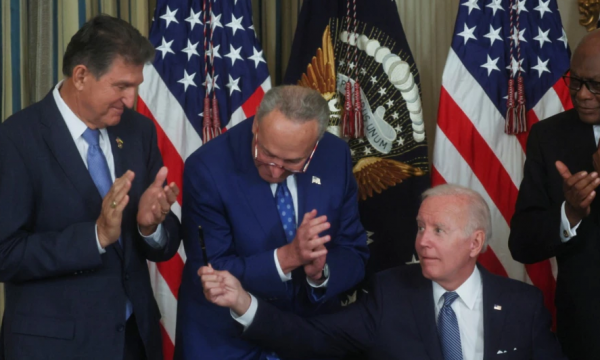 US President Joe Biden signed into law on Thursday, August 16, a nearly $740 billion bill aimed at fighting climate change, raising taxes on big corporations and expanding health care coverage.
The bill, dubbed the "Inflation Reduction Act," is a major legislative achievement for Democrats that includes the largest climate package in US history and is set to become one of the key elements of his two-year presidency.
Advertisement
It passed both the House and Senate last week with the support of every Democrat but no Republican.
The package includes measures designed to support low-emission energy alternatives and reduce greenhouse gas emissions, as well as lower prescription drug prices and raise taxes on corporations and the wealthy.
The legislation would raise about $700 billion through increased corporate taxes and prescription drug savings, and would spend about $400 billion on clean energy and health care provisions.
Biden returned briefly from recess to sign the bill, which was passed along party lines with no support from opposition Republicans.
"This bill is the biggest step forward in fighting climate change," he said at a signing ceremony at the White House.
Republican critics have attacked many elements of the bill, claiming that its spending will accelerate inflation rather than curb it.