The government has revealed how it hid the extension of the deadline for Arbri Street for two years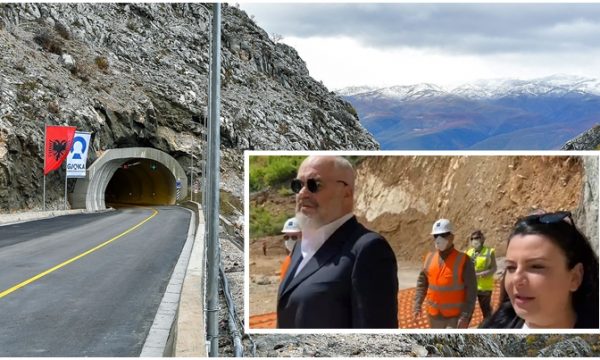 On August 2, the Minister of Infrastructure and Energy, Belinda Balluku, announced a 17-month extension of the works deadline for the Arbri road – a concession project expected to cost taxpayers around 40 billion ALL [330 milionë euro].
Scheduled to be delivered in April 2022, the Arbri road contract is already expected to end in September 2023. According to Balluk, geological problems were the reason for the postponement of the deadline.
"The Murriz tunnel remains to be delivered, which has put us in front of a very big difficulty in terms of geology and we had to look at the whole project…" declared Balluku in a public event.
But the data provided by the Ministry of Infrastructure show that the technical project for the Murriz tunnel and the deadline for the delivery of the road were changed in 2020; but they were kept hidden from the public for almost 2 years.
Moreover, in an inauguration ceremony held almost a year after the deadline change, Minister Balluku declared in the presence of Prime Minister Edi Rama that the road was expected to be completed in April 2022 – a statement that is not only unfounded, but also apparently deliberately untruth.
According to the Ministry of Infrastructure, the technical change of the implementation project for the Murriz tunnel was approved on October 20, 2020, following the recommendation of the road supervisor.
"With the approval of the amended project, the extension of the deadline was also approved," said the Ministry, while emphasizing that the decision was made based on the evaluations of an independent engineer, the Institute of Construction, the Albanian Geological Service and the Albanian Road Authority.
Rama and Balluku were greeted with drums and children dressed in folk costumes at the entrance to the Murriz tunnel on November 29, 2021, while a concrete beam was symbolically raised in the air.
"The contract has a delivery deadline of the end of April 2022 and we will do our best to deliver everything on time," Balluku promised.
Asked by BIRN, Balluku said through the spokesperson that her statement was part of the will "to move as fast as possible".
"This statement is part of the will and effort of the Ministry of Infrastructure to move at a faster pace and to complete the road as soon as possible, based on the possibility that the geological formations were more suitable than those encountered until this phase of construction," said Balluku.
The construction of the 54-kilometer road connecting Tirana with Dibra through a concession contract for the company 'Gjoka Konstruksion', started in 2018. The project envisages the construction of a two-lane road, which passes through a series of six tunnels and two high bridges .
Its construction has been used as an electoral battle horse in the district of Dibra since 2013. Despite the problems in some segments, the road is functional through the bypass of Qafa e Murrizi, at an altitude of over 1000 meters, where it is difficult to pass mainly in winter./Son