Zelensky: Ukraine must return everything Russia took during the war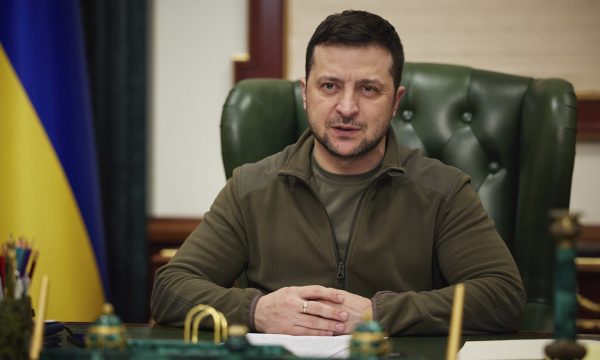 Ukrainian President Volodomyr Zelensky declared tonight that his country must return everything that Vladimir Putin's regime seized during the war and that official Moscow must be punished for its war crimes.
During a video speech on Facebook, President Zelensky said there will be no frozen conflict and that Ukrainians will continue to be protected from the terrorist state he called Russia.
"Only the apparent loss of the aggressor, the loss of everything captured by him and his international legal responsibility for the aggression are obstacles against any new war. This is what our diplomats are working on in organizing a global political, economic and legal response to Russian aggression. By protecting our country, we automatically protect all those who have been threatened or may be threatened by a terrorist state," Zelensky said.
Earlier, the Ukrainian president stated that negotiations with Russia will not be possible if referendums are held in the occupied territories of his country. He added that Kiev will not cede any territory to Russia.
Russian and Ukrainian officials have held several rounds of talks since the invasion began in February, but little progress has been made and there have been no meetings since late March, with both sides blaming each other.
Russian forces hold most of the Kherson region in southern Ukraine, and local officials have said they could hold a referendum on joining Russia within weeks or months.
Pro-Russian separatists held referendums on independence in Donbas and declared so-called people's republics, which the Kremlin recognized before the invasion began.
The governor of Luhansk, a region that has been almost entirely under Russian control for several weeks, said over the weekend that Russia is preparing a new referendum in the newly occupied territories and is offering residents benefits if they respond.