The German general who had faced the barricades in the north returns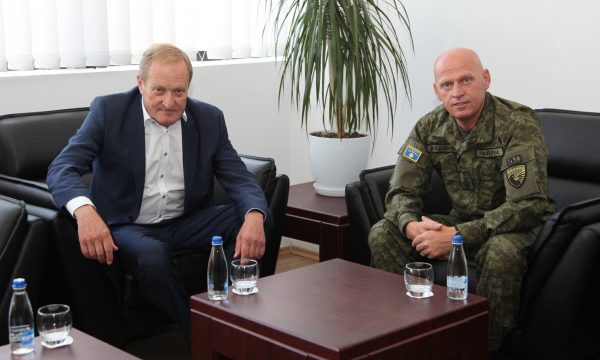 Former KFOR commander, German General Erhard Buhler has returned to Kosovo. He was received in Pristina in separate meetings with the Minister of Defense, Armend Mehaj and the commander of the KSF, Lieutenant General Bashkim Jashari.
The Ministry of Defense announced that Jashari and Buhler spoke mainly about the security situation in the country and beyond, while Minister Mehaj spoke about the process of Kosovo's membership in the Partnership for Peace.
"Minister Mehaj and General Jashari expressed their satisfaction with the visit of General Buhler, with whom they talked mainly about the security situation in the country, the region and beyond. Meanwhile, in the meeting with Minister Mehaj and General Buhler, the process of integration of the Republic of Kosovo into NATO was discussed, more specifically the process of membership in the Partnership for Peace. Further, Minister Mehaj informed General Buhler about the developments and processes that the Kosovo Security Force and the Ministry of Defense are going through, in which case he expressed his gratitude for all the support he has provided during his time in the position of To the KFOR commander and for the support he is offering us even now", the ministry announced.
Buhler had personally faced the situation a week ago in the north of the country, when he was KFOR commander in Kosovo. The barricades were also placed during his time, while he said in 2011 that "KFOR is ready and able to face all the challenges in Kosovo".
In August 2011, Erhard Bühler reached an agreement with Serbian government officials to unblock the roads in northern Kosovo.
The removal of the Serbian protesters from the barricade in Rudara was a prerequisite for the meeting of KFOR commander Erhard Bühler with the head of the negotiating team for talks with Kosovo, Borislav Stefanović, who had asked the protesters to allow the free passage of KFOR soldiers. it.