Serbian arms trafficker scoffs at US sanctions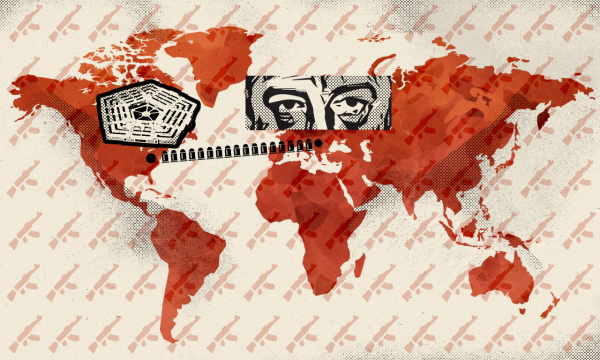 Data obtained by BIRN show that several companies linked to Serbian arms dealer Slobodan Tesic have exported ammunition to six US firms, including one that works with the Pentagon, despite the fact that Tesic has been on the 'list' for the past five years. America's red flag for corruption and for violating the arms embargo.
This investigation shows how the 63-year-old Tesic has found a way to escape the US sanctions through two companies registered in Belgrade – Valir doo and Zenitprom – which both had about 10 million euros in income. since US sanctions were extended to several other Tesic representatives in 2019.
Since 2020, Valir and Zenitprom have together exported more than 926 tons of Serbian ammunition to the USA.
In April of this year, a Zenitprom shipment reached Global Military Products Inc., part of Global Ordnance, a company that supplies weapons and ammunition to the US Department of Defense and its allies, including Ukraine.
The Pentagon declined to comment on the incident.
"Even though we cannot comment publicly on certain issues, the US government takes seriously all allegations of material support to sanctioned entities", said the US Embassy in Serbia.
Marc Morales, the owner of Global Ordnance, said that he was not aware of any connection between Zenitprom and Tesic, and that during the period of due diligence by his company no such connection had emerged.
"The company does not appear on any of the Office of Foreign Assets Control (OFAC) lists, and the collaborations you are alluding to do not appear in any official documents submitted to Global Ordnance," Morales said.
"To my knowledge, no one from my company has met him, and in no way does Global Ordnance do business with him. To clarify, I have never met him either," Morales said about Tesic.
The connection between them
For almost a decade, Tesic had a United Nations travel ban for violating the United Nations arms embargo on Liberia; in 2017.
The US Treasury Department sanctioned him, describing Tesic as "one of the largest arms and ammunition dealers in the Balkans" who uses corruption and financial support of officials to secure arms contracts.
The US extended the penalties to eleven other companies and nine individuals used by Tesic as proxies to circumvent the sanctions.
However, some of these companies continue to work with the Serbian state, buying weapons from local manufacturers – often at bargain prices – for global export. Serbia has made boosting the country's arms export industry a strategic priority, and in 2014, the Foreign Ministry granted Tesic a diplomatic passport – a year after the United Nations lifted its travel ban.
Zenitprom was founded on May 7, 2018 – one year after the imposition of US sanctions on Tesic – with the address 'Diplomatska Kolonija 14' in Belgrade.
The owner and director is Goran Tukic, a veteran of the Yugoimport SDPR state-owned arms export-import company. But different sources have told BIRN that Tesic is in real control.
"Ai [Tukic] introduced himself as Ortak I Tesic and on his behalf offered to cooperate with a friend of mine involved in the arms trade," said a source with many years of experience in the arms industry who spoke on condition of anonymity.
Tesic did not respond to BIRN's request for comment.
In March of this year, Zenitprom changed its address to Hercegovacka 16, in a new construction located near the river of the Serbian capital, called 'Belgrade Waterfront'.
Three months later, a foundation called "People's Hearts" was registered at the former address of Zenitprom. This foundation appears to be run by Tesic's wife, Zivana, his daughter, Jelena Petrovic, and son-in-law Nebojsa Petrovic. Nebojsa is the brother of Zarko Petrovic, director of a company called Aranex, sanctioned by the US in 2019 as a representative of Tesic.
Tesic's other daughter, Danijela Vasilijevic, who used to work for the Foreign Ministry, also has a company – Emar – registered at the same address and managed by the Human Hearts Foundation.
In October 2020, investigative media KRIK published news that Vasiljevic had run for parliament in 2012 as a representative of the Progressive Party of Serbia, SNS, which has been in power since then. Then she was employed at the Ministry of Foreign Affairs.
Also, Zenitprom and Valir companies are both represented by the same law firm of Tesic – Acanski law office. Lawyer Vera Acanski has represented the interests of Tesic, his associates and his family for 15 years. Five of these companies are under US sanctions as representatives of Tesic – Partizan Tech, Technoglobal Systems DOO, Velkom trade, Falcon Strategic Solutions and Vectura Trans.
Zenitprom had modest profits to begin with, recording around 175,000 euros in revenue in 2019, a year after its founding. In 2020, after the US sanctioned Tesic and his associates, Zenitprom generated more than 5.5 million euros in revenue, and 34.5 million in 2021.
Zenitprom representatives were not available for comment.
The US supplies Syrian rebels with weapons from Eastern Europe.
BIRN has identified since November 14, 2020, 13 Zenitprom shipments of small-caliber ammunition to four US companies, resulting in a total of 698 tons of weapons. All ammunition was produced at the state-owned Prvi Partizan factory in Uzice, Western Serbia.
The last shipment was made on April 19 of this year to Global Military Products INC (GMP), a subsidiary of Global Ordnance, registered in Tampa, Florida.
In February, GMP announced that it had won a five-year contract worth $750 million to supply "specialty munitions and weapons systems" to the US government and its allies. It specified that such munitions and weapon systems "are not classified by type in the US inventory, but are used for training purposes, testing, or delivery to US allies".
"Many of them are ex-Soviet bloc or non-NATO ammunition and weapons," the company added in a press release.
GMP said it had previously shipped more than $500 million of special munitions and weapons systems to the US and its allies over the past decade. In August 2021, Global Ordnance signed a multi-year cooperation agreement with Ukroboronprom, a Ukrainian state agency that manages about 100 state defense enterprises.
"Global Ordnance is working willingly alongside the US to support Ukraine in its most difficult times," the company said at the time.
In his response to the incident, Morales emphasized that the weapons his company bought from Zenitprom were for the US commercial market.
Morales has also had trouble with the law. In 2010 he was among 22 arms company executives indicted in the US for attempting to bribe a government minister in Gabon to win a US$15 million arms contract.
The deal was actually part of an undercover FBI operation, but the charges were dismissed in 2012 when judges couldn't reach a verdict for all seven defendants — including Morales — over two trials, the second of which the judge cited "structural deficiencies" in the case.
Morales bounced back, creating Global Ordnance in 2013, and becoming one of the most important players in the Pentagon's supply line to Syrian rebels fighting ISIS in Iraq and Syria at the time.
The weapons come mainly from arms manufacturers in the Balkans and Eastern Europe.
Valir sends millions of Serbian bullets to the USA
Valir d.o.o. remained in the shadows until an Antonov cargo plane crashed in Greece on July 17, carrying 11.5 tons of Serbian ammunition on behalf of Valir to Bangladesh.
The Valir company appears to have been registered in 2019, two weeks after the US expanded sanctions against Tesic and his associates.
The founder and director of the company is Stefan Cupkovic, who in 2019 was also appointed as the representative of the Cyprus head office 'Elvante Limited' in Belgrade. Goran Andric, one of Tesic's closest associates, was a director of Elvante and several other Tesic-related companies. Andric was among those sanctioned by the US in 2019.
Cupkovic is also a representative of Lusor doo, established in September 2020 with the same address as the Elvante company in Belgrade – 'Diplomatska Kolonija 2', a few meters from Zenitprom's central offices.
The Lusor company is owned by Khaled Hamed, a citizen of Yemen and Tesic's partner, who – according to a report by investigative media swrbe KRIK, acquired Serbian citizenship in 2016 from the then prime minister and current president, Aleksandar Vucic, through a discreet procedure for "special national interests".
One of Valir's previous legal representatives appears to be Sanja Kapetina, who has also represented several other companies under the control of Tesic and Dikovic, the legal representative of Emar, the company founded by Tesic's daughter, Danijela.
Like Zenitprom, the Valir company has also seen significant growth since the US expanded sanctions to cover some of Tesic's subsidiaries. In 2019, the company had no revenue; in the following year the revenue reached 12.9 million, and 55 million in 2021.
Valir company mainly exports to Azerbaijan, Saudi Arabia and USA.
So far, in five recorded shipments to the US, Valir has shipped a total of 17.5 million rounds to two customers – 'Nemo Arms Inc' and 'Erie Ordnance Depot LLC'. All this ammunition was produced by the company Prvi Partizan.
A representative of Valir doo, who declined to be identified by name, said that hints about the company's ties to Tesic were "made up stories". The representative did not provide other details./BIRN