The tragic event in New York where the Albanian actor and his wife died, what the witnesses saw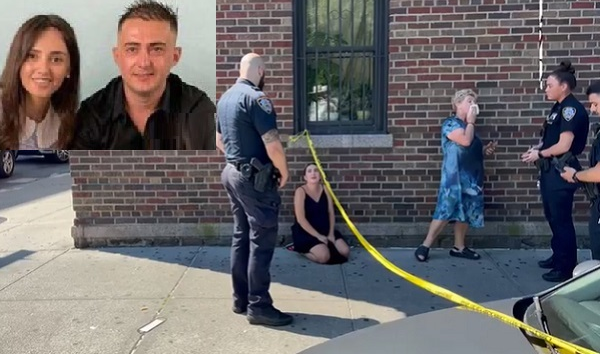 A serious tragic event happened in New York on Saturday morning.
The American media "New York Post" reports that the Albanian actor Florind Belliu, 35 years old, threw his wife Ornela, 28 years old, from the balcony of the apartment, and then he also threw himself.
The tragedy occurred at the Cruger Ave building, on Pelham Parkway South in Morris Park, off the Mosholu-Pelham Greenway.
When the police arrived at the scene, both spouses were dead.
The couple were parents of two minor children, 6 and 2 years old, and Ornela was pregnant, expecting her third child.
Actor Florind Belliu and his wife, Ornela Belliu, lived for several years in the United States of America. Internet searches show that Belliu worked in a real estate agency in New York.
Frank Mussumeci, a construction worker, said a colleague of his saw the bodies of the victims shortly after they hit the ground, Illyria reports.
"He was drinking coffee by the driveway gate when he heard a 'boom', like a large piece of steel hitting the ground. Then he heard a child shouting 'mummy, mummy'. He looked over the gate and saw two bodies there," he said.
The police are conducting investigations to find out the reasons that led the couple to undertake this tragic act and the circumstances in which it happened.
One of the couple's neighbors said that he always saw them together and never noticed anything wrong. However, he said that he often saw the husband angry, while his wife was calm.
The wife of the building's maintenance man, Shadie Perkaj, said the Belliu couple seemed calm.
"They were Albanians, like us. I have always seen them buying things for the house, every day together, with the two children. We didn't know that there was something wrong between them," she said.
Perkaj said that he learned from Florind Belli's mother that his birthday was on Saturday.
"Today was his birthday. His mother told me. He had just talked to his mother in the morning", said Perkaj.
A construction worker, Harold Johnson, said he met the couple on Friday around 10:30 p.m. and asked if everything was OK. Johnson says that before the couple moved into the apartment, the man asked to have the window bars removed, but Johnson told him he couldn't because they had young children.
"I thought he was angry, but he didn't say anything to me. "Just pulled his wife and kept going," Johnson said.
A police source told the newspaper that the man "may have had a mental health problem" that led to the tragedy.