Pacolli's wrong dinner with Nazarbayev – how the Kazakh dictator broke the dishes unhappy with the restaurant in Monaco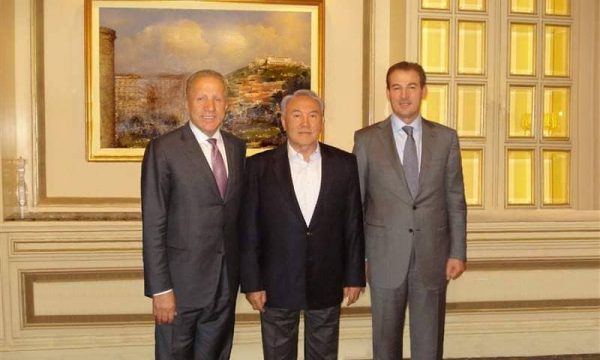 Behgjet Pacolli's road to wealth has not been a field of flowers. The Kosovar businessman, who had migrated abroad at the time of Yugoslavia when he started working in post-communist Russia, faced big problems. He was accused of having received tenders in Moscow by bribing the head of power there, Boris Yeltsin and his family. After the renovation of the Kremlin, the story known as Kremlingate has been left behind, but Pacolli has somehow been removed from this affair. He moved the business with Mabetex to Kazakhstan a long time ago thanks to his connections with former President Nursultan Nazarbayev. But the work in Kazakhstan for Pacollin has not been without pain either.
A story of Pacolli with the Kazakh leader is covered in Tom Burgis's book "Kleptopia – How dirty money is taking over the world".
About 30 years have passed since the episode of 1995, which takes place in the book, and Pacolli has done a lot of business in Kazakhstan, building dozens of facilities with thousands of Kosovars employed there. Even thanks to the contracts there, Pacolli makes his way to Kazakhstan by private plane, while personally he is less involved since his brothers effectively do the work.
But what is the event of 1995, in a restaurant in Monaco that Behgjet Pacolli had reserved for Nazarbayev and his family, who had invited them to spend their holidays on one of the most beautiful riviera in the world, the French one.
According to the book, everything happened when Pacolli chose a restaurant that was not according to Nazarbayev's taste for glamour.
Below, you can read translated excerpts from the book "Kleptopia", without interference
One of Sasha's partners witnessed a manifestation of Nazarbayev's psyche. Patokh Chodiev, an Uzbek nobleman and a product of the prestigious Moscow school of international relations attended by the children of the Communist elite, had served as a diplomat before moving into business. He became so close to Nazarbayev that he was invited to spend holidays with his family on the French coast in 1995. Their host was Behgjet Pacolli, a Kosovar businessman who fished for Kazakh contracts. One day he arranged an outing at a restaurant near Monaco. When they reached La Pirate the group was watching with alarm. Wooden seat, soot from open fire, no crystals. This was not the way modern-day Khan Nazarbayev dined. Chodiev was sitting at the edge of the group, near the door. Waiters dressed as pirates serving dishes, one of the guests reminded him of prison dishes. "Where the hell did you bring us?", the President shouted to Pacolli. Pacolli turned yellow. Nazarbayev grabbed the plate and slammed it to the ground. A terrible silence. Nazarbayev grabbed another plate and threw it away. "This is not what I call a break, damn it," he shouted. His wife, Sarah, was close to tears. 'Nursultan, Nursultan calm down, she begged him. If you don't like it here, we can go somewhere else. Stop, please, and calm down. Nazarbayev would not rest.