Faton Ahmeti: Together, for a genuine and representative cultural life for Tetova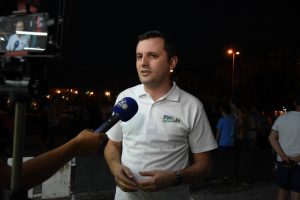 Today, the Youth of the Democratic Union for Integration in Tetovo organized a fun musical activity on Ilirija boulevard, where the candidates for councilors of the DUI list for Tetovo were also present.
The bearer of the list, Faton Ahmeti, in a statement given to the media, among other things, emphasized that Tetova needs a genuine and representative cultural life, for the institutionalization of cultural activities such as the October Culture Summer, the establishment of a children's theater, as well as a professional orchestra. of the city.
"Young men and women in Tetovo should have a real stage where they can show their talent, gifts and artistic work. The municipality should allocate more means to support cultural life and find forms for direct participation of young people in decision-making. One of the possible ways to do this is the even greater support and empowerment of the Local Youth Council in Tetovo", declared Ahmeti.