Iran openly talks about the possibility of creating a nuclear bomb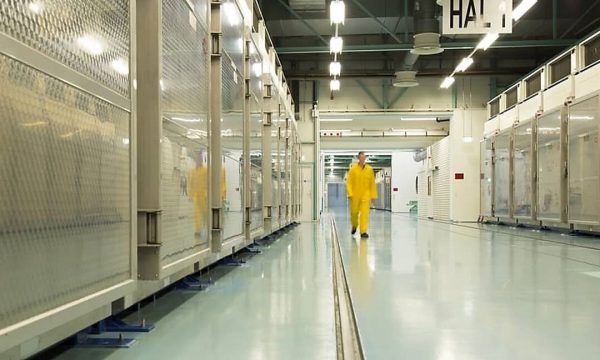 Iranian officials have begun to speak publicly about the possibility of creating a nuclear weapon.
Iran's supreme leader, Ayatollah Ali Khamenei, issued a religious edict against nuclear weapons in 2005, and since then officials have claimed that Tehran's nuclear program exists only for civilian purposes.
However, that rhetoric has changed in recent weeks.
Kamal Kharazi, Khamenei's senior adviser, suggested on July 17 that Iran has the capacity to create nuclear weapons, but a decision on whether to create one has not yet been made.
In a video posted on Telegram by a channel close to Iran's Islamic Revolutionary Guard Corps on July 29, the audience was asked: "When will Iran's dormant nuclear bomb wake up?"
The channel has claimed that the underground Fordow facility is capable of producing enough uranium to enrich a nuclear weapon.
These claims were made more vocal on August 1 by Mohammad Eslami, head of Iran's nuclear energy organization.
What does this mean?
The latest statements are unprecedented, but they may be efforts on the part of Iran to gain as much as possible at the negotiating table.
Talks aimed at reviving the nuclear deal – which Iran signed with world powers in 2015 – have been deadlocked for months.
On the other hand, the latest statements can be seen as Iran's attempts to become a nuclear power.
The 2015 deal calls for curbs on Iran's nuclear program in exchange for the lifting of international sanctions on Tehran.
When discussing nuclear issues, Iranian officials in recent years have cited the Islamic notion known as taqiya, which means believers can hide their beliefs in the face of persecution.
Simply put, they can achieve their goal secretly.
What happens now?
It is hard to believe that these statements were made without the approval of Khamenei, who has the final say on such important matters.
The supreme leader's goal may be to restore public confidence and pride in Iran's nuclear program and to undermine the Islamic Republic's resolve.
That way, if Iran reneges on the nuclear deal, Khamenei can save face.
When the deal was signed in 2015, he hailed Iran's "heroic flexibility".
However, since the former American president, Donald Trump, withdrew the United States from this agreement in 2015, this pact has been implemented very little.
Some see Khamenei's approach these days as "defiant perversion", as the escalating rhetoric is expected to expand.
On August 2, lawmaker Mohammadreza Sabaghiyan publicly threatened that "if the enemies continue their harassment, we will ask our leader to change the religious order in favor of creating a bomb."
"Kind words" are not enough
The head of the United Nations Nuclear Energy Agency, Rafael Grossi, said on August 2 that "good words" from Iran are not enough to satisfy international inspectors. Grossi has emphasized that he hopes that Tehran is ready for transparency regarding the nuclear program, which is developing "very, very quickly".
Grossi made these statements when asked about the Agency's role in monitoring the possible revival of the 2015 nuclear deal.
He has called for Iran to give the agency access to the plants to assess whether its uranium enrichment program is still at levels considered peaceful.
"When it comes to nuclear issues, nice words don't work. What you need to do is to be transparent and work with us. We are ready and we hope they will be too," Grossi told reporters at the United Nations.
"They have an ambitious nuclear program that needs to be properly verified. The program is developing very quickly and in some aspects, because both its ambitions and its capacity are growing".
Currently, Iran is enriching uranium to 60 percent pure.
This figure is several times higher than the 3.67 percent stipulated in the 2015 agreement.
To create nuclear weapons, uranium must be enriched to 90 percent./REL