The survivor of the Meja massacre, where Serbian forces killed at least 377 civilians, tells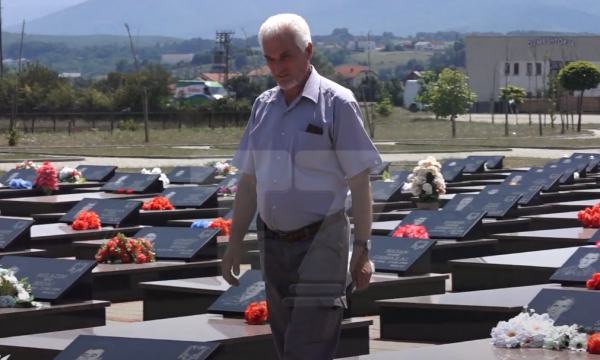 Bozhidar Delić, who led the 549th motorized brigade of the Yugoslav army, has been re-elected as the deputy speaker of the Serbian parliament. It is suspected that the troops led by him committed numerous crimes in Dukagjin.
Journalist: Elena Ukaj
The longing for the family members was extinguished in this cemetery.
And when the Meja massacre is mentioned, Gjokë Sokol still remembers the surname of the Serbian general who commanded the Serbian forces during the war in Kosovo.
Bozhidar Dellic, who led the 549th Motorized Brigade of the Yugoslav Army, has been elected again as the vice president of the Serbian parliament. In an attack on the villages of Meja and Korenica, Serbian forces, including soldiers commanded by Dellic, killed at least 377 civilians, 36 of whom were under 18 years of age.
Sokol remembers well the night when the siege of the village began.
On April 27, 1999, Filip, Simon, Kristë, Kastriot and Gjergj Sokoli, family members of the 70-year-old did not escape the massacre.
During the NATO bombings, Sokol visited Meja from time to time, to look for any sign of family members being alive. But they had not survived.
An open grave also awaits his sister, Pashke Sokol, who is still missing, along with 16 others.