Frightening competition to start alongside the attack in Barcelona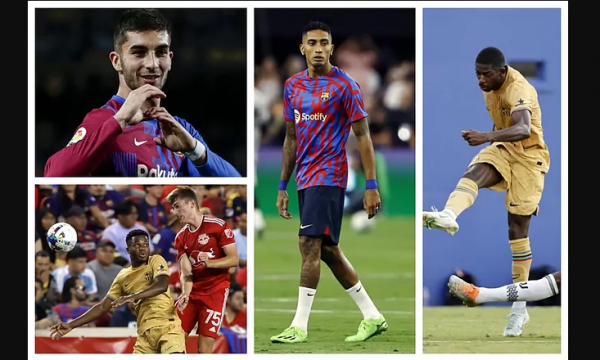 Ansu, Ferran, Raphinha and Dembele are the players who will fight for the starting place in the first 11
Xavi Hernandez has long said he wants a top-class player for every position at Barcelona and he appears to have got a few of those this summer.
Now he will face a problem, especially for wing forwards. He has two starters for these positions, all of whom can play in the first 11 even in the Champions League. Even Memphis Depay would like to have a place, although it is seen that he is not in the plans of the team from Camp Nou.
Ousmane Dembele is the first name to start on the right. Xavi believes that the Frenchman is his first choice. The coach believes that the player is the best in the world in his position.
Then there is Raphinha, who has risen to compete with the Frenchman. He has won fans already and Xavi has tested him several times on the left wing just like Dembele.
On the left are Ansu Fati and Ferran Torres who will fight head to head for a place in the lineup.
The youngster, Fati, has had injury problems since breaking into the first team but has looked good in Barcelona's pre-season games and if he doesn't get injured he could be considered first choice.
Roli i Ferranit
The former Valencia player was a key player after arriving in January last season where he played 25 games in all competitions.
His versatility will come in handy and it seems that even this season he will be able to play in all attacking positions, even as a number 9 behind Robert Lewandowski and Pierre-Emerick Aubameyang.
Then on the list is the name of Memphis. Xavi has started with him several times in preseason matches but he is not expected to be part of the club's plans this season and has been asked to find a new club during the month.
Xavi, as a result, will have this problem to manage this quality. He has high quality players who compete in every area of ​​the team. Everyone knows that they have to score and work to keep their position. /Express newspaper/