Poetry of the week / Montale: History does not change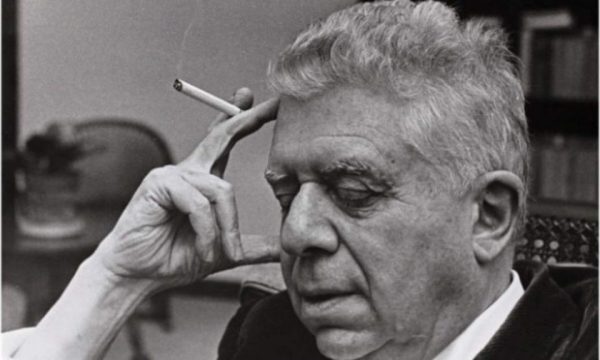 'Satura' was published in 1971, when Montale was already the most famous Italian poet. In 1975 he was awarded the Nobel Prize for Literature.
Manifesto of Montalian anti-historicism, this poem is one of the best known and most quoted from the collection 'Satura': if not a eulogy of a supposed separation of the intellectual from the course of historical events that involve him as a man, but more a defense of the freedom of the conscious individual from the determinism with which the various philosophies of history would like to punish him, be they of the religious, idealistic or materialistic type. The theme is repeated in the Montalian essays of the Sixties and was explained precisely by the author in an interview from 1971 on the occasion of the publication of 'Satura': "If history is a series of facts and the historian is the one who records and records these facts, no one of us does not escape history. However, if the historian wants to demonstrate to us that the facts contain a finality, a providential telos, then the so-called historian will be able to do nothing but justify everything that happens, with special enthusiasm and cunning, for the most desolate periods final big shout".
In another place, even more explicitly: "History, as a necessary tendency of a goal, is, according to me, an illusion cultivated by post-Hegelian philosophy: historicism and Marxism. They are philosophies of what happens. They kneel before the fact, maybe even deify it. The history that coincides with being, necessarily, the history that is the whole, seems to me to give man no sense of responsibility and leaves him completely disarmed.
Modeled after the litany, from which it derives its continuous anaphoric movement, History can boast of having significant precedents, not only from a formal point of view in some satirical prose composed between June and July 1952 for 'Corriere d'informazione', not coincidentally re-proposed in volume in the same year as the collection 'Satura' ( La poesia non esiste, Scheiwiller, Milan 1971): «The intellectual marinates the salad with oil and lemon. / The intellectual thinks that Verdi managed to learn his craft very late and that in his old age he produced that masterpiece called 'Falstaff'. / The intellectual prefers pure music, above all Bach (whose name he pronounces with a strong palatal rub). / The intellectual abandons the Communist Party, but does not accept that those who have never been part of it have the right".
History does not change
like a chain
uninterrupted links.
Just in case
most links do not hold at all.
There is no history
before and after,
nothing inside her to murmur
on low heat.
History is not manufactured
from the one who thinks about it, not even
from the one who ignores it. History
does not make way for himself, does not persevere,
he has little by little, he does not progress
it doesn't even lag, it moves to the rails
and its direction
it is not on the departures schedule.
History does not justify
and don't cry
history is not internal,
because it's outside.
History does not breed
petting or whipping.
History does not master
of anything to do with us.
Falling into it doesn't do you any good
make it truer and fairer.
Taken from Eugenio Montale, Satura, Mondadori, 2009
/Translation: Express Newspaper