The US is closely watching China as it conducts military exercises with missiles near Taiwan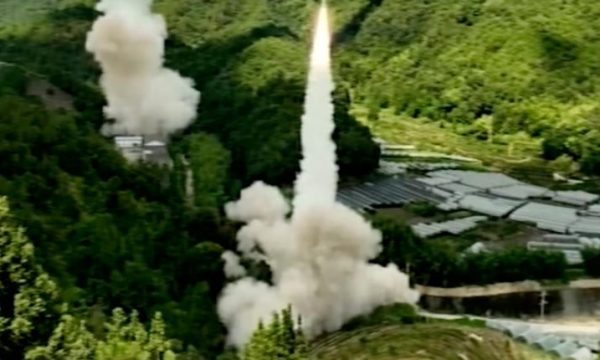 China launched missiles in the biggest military drills in the Taiwan Strait, keeping tensions with Taiwan high, a day after US House Speaker Nancy Pelosi visited the island. International media also reported on cyber attacks in Taiwan which had a clear message against Mrs. Pelosi's visit. Meanwhile, the American Secretary of State, Antony Blinken, declared today that they will not accept the change of Taiwan's status.
China fired missiles around Taiwan as part of military exercises, a day after House Speaker Nancy Pelosi visited the self-governing island that Beijing considers part of its territory.
The drills in the Taiwan Strait included missile launches into waters north, south and east of the island, raising tensions in the area to their highest level in a quarter century.
Taiwan's Defense Ministry said 11 Chinese Dongfeng ballistic missiles had been launched into the waters around the island. The last time China launched missiles into the waters around Taiwan was in 1996.
On Wednesday, some Taiwanese officials announced a large number of cyber attacks that have paralyzed the services of websites belonging to Taiwan's president's office, foreign and defense ministries, while screens at train stations had messages clearly opposed to Mrs. Pelosi's visit to Taiwan.
Meanwhile, American Secretary of State Antony Blinken, who is in Cambodia for a meeting of the Association of Southeast Asian Nations, ASEAN, stated that Washington has not changed its policy towards Taiwan or China.
"We oppose any unilateral attempt to change the status quo, especially by force. We remain committed to the one-China policy and I want to underline that nothing has changed from our position and I very much hope that Beijing will not create a crisis or look for a pretext to increase its aggressive military activity." tha zoti Blinken.
Michael O'Hanlon of the Brookings Institution says China sees Ms. Pelosi's visit to Taiwan as a provocation.
"When Taiwan welcomes the Speaker of the House of Representatives, the third-highest-ranking American official, then that, in China's mind, seems dangerously close to reestablishing diplomatic relations, or at least some sort of relationship that looks like diplomatic relations." , which of course implies that the United States is treating Taiwan as a state." says Mr O'Hanlon.
Ms. Pelosi continued her Asian tour with a stop in South Korea, where she did not mention her visit to Taiwan, according to media reports.
She met with her South Korean counterpart with whom she talked about economic cooperation and the danger from North Korea's nuclear program. Then she went to Japan.