Who is the athlete who is threatening Usain Bolt's record?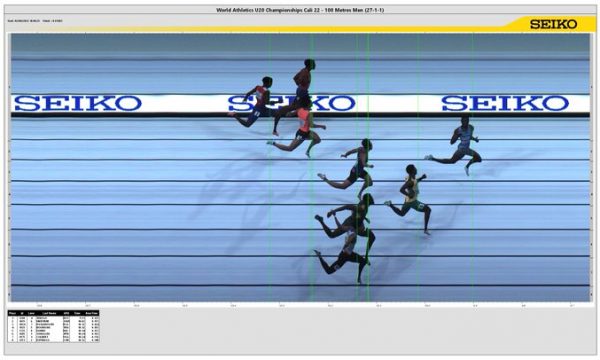 He has set a new world record in the last race
It is not the first time that the prophecy that Usain Bolt's heir has been found has been heard. There is always the appearance of a young athlete who will become the king of speed and dominate the race tracks as he has hoped.
Now, a descendant of his has been discovered and is considered a possible successor.
It is about Botswana's sprinter, Letsile Tebogo, who has just won the title at the U20 World Athletics Championships being held in Cali. He set a new record of 9.91 seconds, three hundredths of a second off his best time at the World Championships in Eugene, where he reached the semi-finals.
The comparisons to Bolt go beyond his performances. Let's remember the Jamaican's gestures on the track.
The calmness with which he runs allows Tebogo to easily overtake his rivals. In the semi-finals, he stared down Benjamin Richardson of South Africa as he ran.
Smiling for the @sports_seiko photo finish 📸#WorldAthleticsU20 pic.twitter.com/PdYFf3USuU

— World Athletics (@WorldAthletics) August 3, 2022
His image did not go unnoticed. Many remembered the moment of Bolt and Andre De Grasse in the semifinal of the Olympics in Rio. The World Athletics site immediately posted both of his pictures on their social network.
Then, in the final, he had a strong start where he left his rivals far behind. He had the luxury of running 30 meters alone with Jamaican Bouwahjgie Nkrumie behind him, at whom he pointed the finger.
He finished the race with a time of 9.91 (+0.8 advantage), the photo finish immortalized with the gesture to Nkrumie. After the race was over, Tebogo clarified his gesture.
"The gesture means we get out on the track and enjoy the race," Tebogo told the World Athletics website.
"I saw that they were afraid of me, but I was also afraid of them. When the athletics gun signal was given, I wanted to have the best start I've had in my life so far."
He is Letsile Tebogo. He is 19 years old, he is from Botswana and he won the 100 meters of the under 20 world championship with a new world record: 9.91 and that he arrived at the finish line… pic.twitter.com/6UdRVjilqj

– Nicolás Oyarzún (@nicolasoyarzun1) August 3, 2022
"I didn't plan the celebration, but before that, from the first step, the title was mine, then I did it. I didn't worry about the time. I didn't see it."
"If someone took this sign as disrespectful, I'm really sorry. I saw the fans and everyone watching me at home and I can say I enjoyed the race. I did it to remind them a bit of what Usain Bolt had done before. He is my idol. The person I followed". /Express newspaper/