Vucic in the role of a spy – talks about a task force led by Kurti, mentions the name of the commander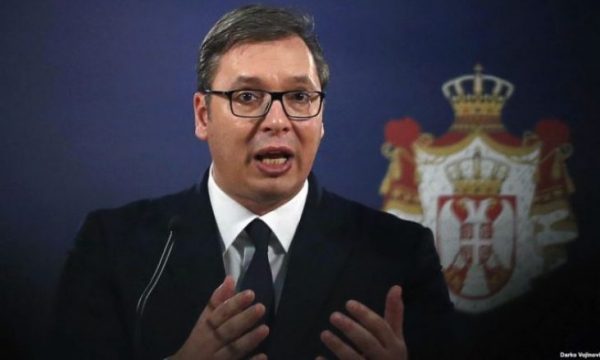 The President of Serbia, Aleksandar Vučić, played the role of a spy during an interview he was giving on Serbian public television, saying that the Prime Minister of Kosovo, Albin Kurti, has created a task force, which according to him, stopped the ambulance driver yesterday in border.
"It was not ROSU units that did it, but the so-called special intelligence agencies. The Task Force, which is directed directly by Albin Kurti and the Government of Pristina, and the action was directed by Xhavit Tahiri", speculated Vuçic.
The propaganda spread yesterday by the director of the so-called Office for Kosovo in the Serbian government, Petar Petkovic, that four policemen of the special unit "kidnapped Dejan Spahic and a member of ROSU got behind the wheel of an ambulance and all of them went in the direction of unknown towards the south" was quickly denied by the Kosovo Police, who said that the ambulance driver was in a drunken state and had obstructed the police officers, that's why he was escorted to the police station.
"During the performance of police duties at a checkpoint in the north of Mitrovica, border police officials were prevented from performing their duties by a person who was in a drunken state, who according to police procedures was escorted to the police station. All actions against the same will be undertaken in cooperation and coordination with the justice bodies", explained the Kosovo Police.
On this occasion, Vucic on RTS misinformed the public that the Serbian driver was transporting medicine and that he had not committed any crime.
"They caught a Serb who was not even guilty, who was transporting medicine. They will say that he is guilty of being in a demonstration near the barricades. Well, all the Serbs are at the barricades because they don't think that Kosovo is an independent state, and then Kurt in front of Quint says that they are fighting against the mafia and crime. And they say, of course, that all Serbs are mafia, except for those who say that Kosovo is independent," said Vucic./Rhewal/