US-China-Taiwan triangle reports, what you need to know about Pelosi's visit to Taipei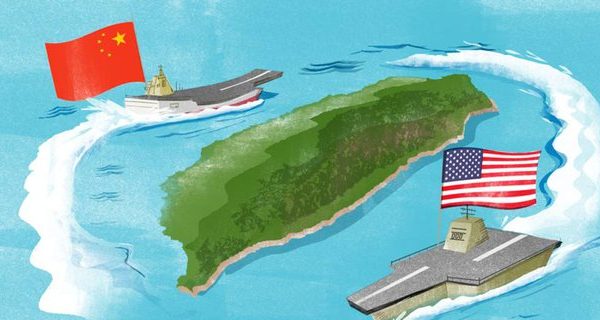 Speaker of the US House of Representatives Nancy Pelosi 'landed' in Taiwan on Tuesday evening, marking an important show of support for Taiwan despite China's threats of retaliation, writes CNN.
It is the first time a speaker of the US House of Representatives has visited Taiwan in 25 years. Her trip comes at a low point in US-China relations and despite warnings from the Biden administration against a stop in Taiwan.
Pelosi, an outspoken critic of Beijing, has previously said it is important for the US to show support for Taiwan.
China has criticized the visit. In a statement after Pelosi's arrival, China's Foreign Ministry said the trip would have "a severe impact on the political foundation of China-US relations."
"China will definitely take all the necessary measures to resolutely protect its sovereignty and territorial integrity in response to the visit of the American speaker," the statement said.
A spokesman for China's Ministry of Defense said the People's Liberation Army is "on high alert" and will launch "a series of military operations aimed at countering the situation, resolutely protecting national sovereignty and territorial integrity, and deterring firmly against the intervention of foreign forces and secessionist schemes of "Taiwan independence".
Before the visit, US officials were concerned that China could respond militarily, potentially triggering the worst mutual crisis in decades. Last week, China's Ministry of Defense warned: "If the US insists on going its own way, the Chinese military will never sit idly by."
The tensions provided the backdrop for a lengthy phone call between US President Joe Biden and Chinese leader Xi Jinping on Thursday, in which Xi warned the US not to "play with fire" on the Taiwan issue. Neither side immediately confirmed whether Pelosi's reported plans had been discussed, though a US official later confirmed they were. Preparation for the call preceded the trip reports.
Why is Beijing angry about Pelosi's visit?
China's ruling Communist Party claims the self-governing democracy of Taiwan as its territory – despite never having governed it – and has not ruled out using force to "reunify" the island with Chinese territory.
For decades, Beijing has sought to isolate Taipei on the world stage, from clashing with its diplomatic allies to blocking it from joining international organizations.
Any move that appears to give Taiwan a sense of international legitimacy is strongly opposed by China. And in Beijing's eyes, high-profile overseas visits by Taiwanese officials, or visits by foreign officials to Taiwan, will do just that.
In 1995, a visit by the then president of Taiwan Lee Teng-hui to the United States caused a major crisis in the Taiwan Strait. Angered by the visit, China fired missiles into the waters around Taiwan and the crisis ended only after the US sent two aircraft carrier battle groups to the area in a powerful show of support for Taipei.
In recent years, Taiwan has received a number of visits from US delegations, consisting of sitting and retired officials and lawmakers. This has prompted angry responses from China, including sending fighter jets into Taiwan's self-proclaimed air defense identification zone.
But Pelosi's political status makes her visit to Beijing even more provocative. Pelosi is a critic of the Chinese Communist Party.
In 1991, Pelosi unfurled a banner in Beijing's Tiananmen Square to commemorate the victims of the 1989 massacre of pro-democracy protesters. Recently, she has expressed support for the 2019 pro-democracy protests in Hong Kong.
Why is the trip fueling US-China tensions?
Beijing sees Pelosi's trip as a "serious violation" of historic US-China agreements governing their relationship. Washington recognizes the People's Republic of China as the sole legitimate government of China, but maintains close unofficial ties with Taiwan.
The US has also supplied Taiwan with defensive weaponry under the terms of the Taiwan Relations Act for decades, but has remained deliberately vague about whether it would defend Taiwan in the event of a Chinese invasion – a policy known as "strategic ambiguity".
China's authoritarian return under Xi and the deterioration of relations with Washington have drawn Taiwan closer into the US orbit. This has angered Beijing, which has accused Washington of "playing the Taiwan card" to curb China's rise.
Meanwhile, the US has increased its engagement with Taiwan, approving arms sales and sending delegations to the island.
Since the Taiwan Travel Act was signed into law by then-US President Donald Trump in March 2018, US officials and lawmakers have embarked on more than 20 trips to the island. The 2018 law encourages visits between US and Taiwan officials at all levels.
Has a Speaker of the House of Representatives ever visited Taiwan?
Pelosi's trip is not the first time a speaker of the US House of Representatives has visited Taiwan.
In 1997, Newt Gingrich visited Taipei just days after his trip to Beijing and Shanghai. China's Foreign Ministry criticized Gingrich after his visit to Taiwan, but the response was limited to rhetoric.
But twenty-five years later, China is stronger, more powerful and more confident, and its leader Xi has made it clear that Beijing will no longer tolerate any perceived weakness or challenge to its interests.
What about time?
Pelosi's visit comes at a sensitive time for China. The Speaker of the House of Representatives had previously planned to lead a US congressional delegation to Taiwan in April, but postponed the trip after she tested positive for Covid-19.
China's military celebrated its founding anniversary on Aug. 1 as Xi, the country's most powerful leader in decades, prepares to break with convention and seek a third term at the 20th Communist Party congress this fall.
In August, Chinese leaders are also expected to gather in the seaside resort of Beidaihe for their annual summer conclave, where they discuss personnel moves and policy ideas behind closed doors.
While the politically sensitive timing could prompt a stronger response from Beijing, some experts believe it could also mean the Communist Party would want to ensure stability and prevent things from spiraling out of control.
How has China reacted?
China's military will launch drills around Taiwan in response to US House Speaker Nancy Pelosi's visit to the self-governing island and launch a series of "targeted military operations to combat the situation".
The lingering concern among US officials is that miscalculations or unintended incidents or accidents could occur if China and the US significantly increase their air and naval operations in the region.
But the US does not expect direct hostile action from Beijing during a visit by Pelosi. At least five defense officials, speaking ahead of her arrival, described that as a very remote possibility and said the Pentagon wants to see the public rhetoric toned down.