Pelosi: America's determination to preserve democracy in Taiwan remains ironclad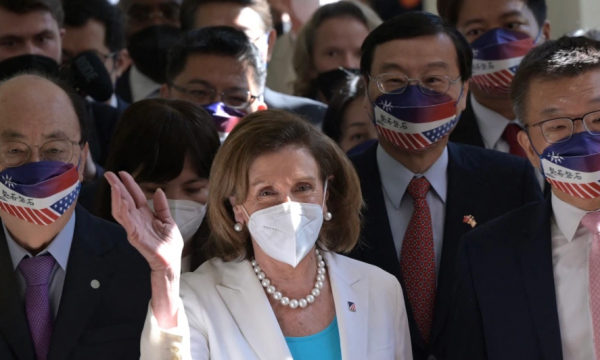 "America's determination to preserve democracy, here in Taiwan and around the world, remains ironclad," US House Speaker Nancy Pelosi said after meeting with the island's president, Tsai Ing-wen.
"Today the world faces a choice between democracy and autocracy," Pelosi said in a brief speech during the meeting with the president.
Pelosi emphasized that Taiwan enjoys bipartisan support in the US Congress and praised the island's democracy.
She also addressed the Taiwan Parliament on Wednesday, where she called for increased inter-parliamentary cooperation.
"We congratulate Taiwan for being one of the freest societies in the world," she said in Parliament.
Pelosi told Taiwan's leaders on August 3 that Washington would not abandon its commitment to the self-governing island, despite opposition from China.
China, which considers Taiwan a province of its own, immediately condemned Pelosi's visit, saying it seriously jeopardized peace and stability in the Taiwan Strait.
Although Pelosi did not say that Washington would defend Taiwan militarily, she stressed that Congress is "committed to the security of Taiwan, so that the island is able to defend itself."
In response to the visit, Beijing warned of extensive military exercises around the island and issued a series of tough statements after the delegation arrived on August 2 in the Taiwanese capital, Taipei.
The Taiwanese president thanked Pelosi for her decades of support for Taiwan and presented her with the "Order of the Beautiful Clouds" medal.
"In the face of deliberately increased military threats, Taiwan will not back down."
"We will resolutely uphold our nation's sovereignty and continue to hold the line of defense for democracy," Tsai said.
President Tsai later told a news conference that "military exercises are an unnecessary response."
Pelosi is the highest-ranking US official to visit Taiwan in 25 years. She traveled to Taipei from Malaysia.
The reasons for Nancy Pelosi's visit to Taiwan
In an opinion published in the Washington Post, Pelosi explained the reasons for her visit to Taiwan, and immediately after arriving in this country she praised Taiwan's commitment to democratic governance, while criticizing China for dramatically increasing tensions with Taiwan in the years last.
She said the Taiwan Relations Act, a document signed 43 years ago, sets out America's commitment to a democratic Taiwan, "providing the framework for economic and diplomatic relations that would quickly solidify into a key partnership."
Pelosi said the document includes the US's "solemn oath" to support Taiwan's defense. According to this act, Washington considers that any attempt to determine the future of Taiwan by other than peaceful means would be "a threat to peace and security in the Western Pacific and would pose great concern to the US." ".
According to her, the US should remember this oath as Taiwan's democracy is now being threatened by China.
Beijing has stepped up patrols with surveillance planes, bombers and other warplanes, Pelosi said. It has also carried out dozens of cyber attacks on Taiwanese government agencies and is pressuring countries around the world to cut ties with the island.
In the opinion piece published in the Washington Post, Pelosi cited China's "brutal repression" of dissent in Hong Kong and its treatment of Uyghur Muslims and other minorities, which the US describes as genocide.
"We cannot stand by as the Chinese Communist Party threatens Taiwan and democracy," Pelosi said.
She said that as Russia continues its "premeditated and illegal war on Ukraine, killing thousands of innocent people — including children — it is essential that America and its allies make it clear that we will never surrender to autocrats."
After visiting Taiwan, Pelosi will visit Japan and South Korea. /REL