VMRO-DPMNE called today's "Ilinden" manifestation a party rally of SDSM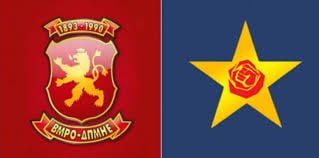 The delegation of the opposition party VMRO-DPMNE today canceled the celebration of Ilinden in Mečkin Kamen, not following the speech of Prime Minister Dimitar Kovacevski.
As the vice president of the party, Aleksandar Nikolloski, said, this is due to the party and political actions of the SDSM in power.
"Because of this party and political behavior, we decided to leave "Meçkin Kamen" and do not participate in the speech of the head of the Government, because it is obvious that this is a party manifestation of SDSM. We do not intend to participate in SDSM rallies, thank you", said Aleksandar Nikolloski from VMRO-DPMNE.
Otherwise, today on the occasion of the Ilinden holiday, many local Macedonian and Albanian politicians cremated together and spread messages for a better Macedonia, oriented towards the European Union.