Vjosa Osmani on the BBC after the events in the North: We live next to a neighbor who controls Russia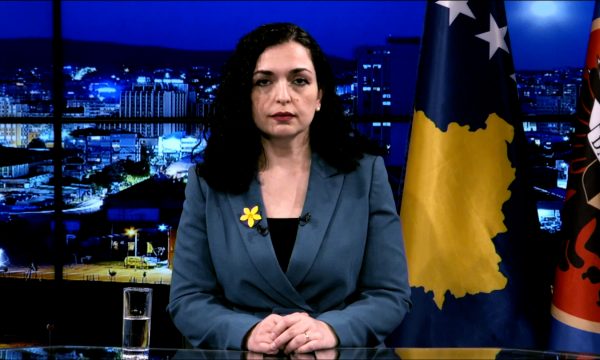 Last night, President Vjosa Osmani spoke to BBC Newsnight about the tense situation in the north of the country, an event that attracted the attention of the international media, which raised questions about the possible escalation of violence.
These questions were answered by Osmani, who said that Kosovo has never increased tensions, but that this is done by Serbia supported by Russia. However, the president vowed that such a Serbian goal will not be allowed in Kosovo.
Could Kosovo become a victim of the war in Ukraine, the BBC moderator asked.
"So, Serbia and Russia are interested in restoring tensions in our region. We will not allow this. First, we will not fall prey to these provocations. Second, we will never encourage these provocations. And thirdly, we will work together with our partners to make sure that such a scenario does not happen in Kosovo", replied Osmani.
For the international audience, President Osmani also spoke about the current situation.
"Tensions are escalating. However, there have been preparations by Serbia, aided and abetted by Russia for a long time, to attempt the escalation of the Western Balkans in general and Kosovo in particular. In the last decade that Vučić has led Serbia, but especially in the last months where they continued to support the illegal structures in the north of Kosovo which consist of criminal gangs. Through them and by manipulating them, they are holding the Serbian minority living in Kosovo hostage to wrong policies".
Osmani said that it is not the language of the Kosovar leaders towards the Serbs that is causing tensions, but their actions.
"Kosovo has never contributed and will not contribute to escalation or violence. But we have to understand that we live next door to a neighbor that is completely controlled by Russia. They are fighting our democratic way of life, this is a fight against the values ​​we live by every day and which are at the foundation of our independent state. It is not our accusations that are escalating tensions. It is their actions that are escalating the situation and creating tensions. So, practically, if we tell the truth about the intentions of Russia and Serbia, this will not affect negatively".
The President of Kosovo said that accommodating the regimes of Russia and Serbia is not the right way, while her message to the Russian President Putin was that he will fail in Ukraine and will absolutely fail in the Balkans in the destabilization efforts.
Likewise, Osmani told the BBC that Kosovo's institutions are working so that Serbian citizens feel equal and integrated in society and institutions. /Express newspaper/