The police of Gjilan held an information campaign about equipment with RKS license plates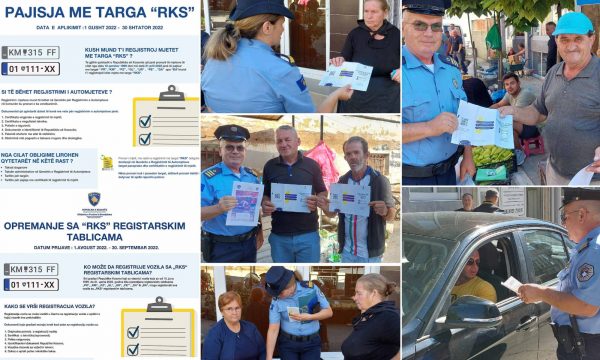 The Gjilan Regional Directorate, the Community Unit of the Gjilan Police Station today in some parts of the city of Gjilan and in the villages with mixed communities such as Shillovë, Kmetoc, Ponesh and Cërnicë held an information campaign among the citizens about the decision of the Ministry of Internal Affairs of the Republic of Kosovo for equipment with RKS license plates.
"The information campaign is addressed to citizens, mainly from communities who may own vehicles with license plates "PR", "GL", "PZ", "KM", "UR", PE", DA" or ĐA" with folding sheets that explain the time and necessary clarifications for the procedure and criteria foreseen for the application and equipment of these vehicles with RKS license plates.
The Gjilan Regional Police Directorate is engaged and will work to inform all citizens with the procedures for equipping with RKS license plates from August 1, 2022 to September 30, 2022," the police announcement states.