The number of infected decreases, the number of deaths increases during the last 24 hours from Covid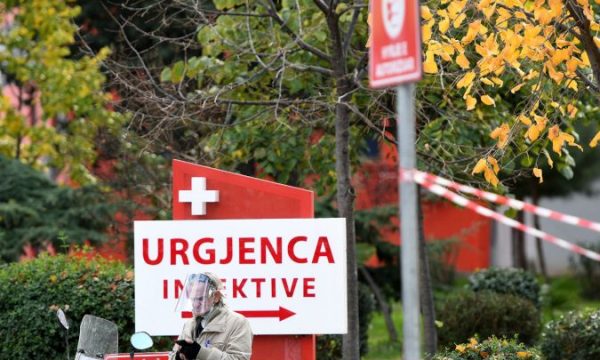 Today, the number of infected has dropped significantly, while the number of deaths has increased compared to yesterday. During the last 24 hours, 278 new cases and 3 deaths from Covid 19 have been recorded
The Ministry of Health informs about the situation in the last 24 hours: 645 tests have been carried out, of which 278 citizens have tested positive for COVID-19, in these municipalities:
77 in Tirana, 27 in Lushnje, 24 in Vlorë, 21 in Durrës, 19 in Saranda, 13 in Divjakë, from 9 citizens in Vorë, Berat, 8 in Kavajë, 7 in Himarë, from 6 citizens in Mirditë, Fier, Librazhd, from 5 citizens in Has, Delvinë, Devoll, Prrenjas, from 4 citizens in Mallakastër, Gjirokastër, Gramsh, 3 in Selenica, from 2 citizens in Bulqiza, Përmet, Tepelën, Peqin, from 1 citizen in Pukë, Kukës, Roskovec.
There are 7,539 active citizens with Covid19 throughout the country.
Currently, 35 patients are receiving treatment at the COVID3 hospital. In the last 24 hours there have been three deaths from Sars-Cov2: two citizens from Tirana aged 66-75 years, one citizen from Fieri aged 80
975 citizens have recovered during the last 24 hours, bringing the number of recoveries to 301,288 since the beginning of the epidemic.
Statistics (1 Gusht 2022)
278 new daily cases
Healed in 24 hours 975
Hospitalized 35
Loss of life in 24 hours 3
645 daily tests
Total witnesses 1,918,822
Positive cases 312,375
Recovered cases 301,288
Active Cases 7,539
Loss of life 3,548
Geographical distribution of active cases by counties:
Tirana 3,952
625 iron
Durrës 573
Vlora 454
Elbasan 393
Korça 331
Shkodër 327
Weight 251
Gjirokastra 238
Lezha 219
Diber 114
Kukës 62