The famous researcher supports Kurti: He needs support in the confrontation with Serbia
Francis Fukuyama, one of the most popular political researchers in the world today, has posted a tweet of support for the Prime Minister of Kosovo, Albin Kurti, on Twitter.
Fukuyama, known for his controversial book "The End of History and the Last Man", but also for the book "State-Building" where he deals with the problems of developing countries with public administration, which he calls a "black hole" has written that Kurti deserves "support".
"I met the Prime Minister of Kosovo, Albin Kurti, in Athens last month. He deserves support in his current confrontation with Serbia".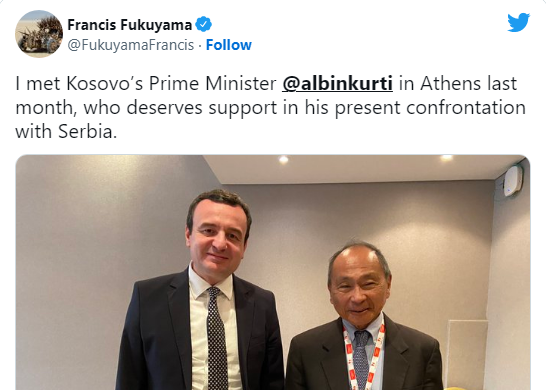 Fukuyama, like Kurti, was a speaker at The Economist forum last month held in Athens.
The researcher of political sciences has recently been very present in the countries of the Western Balkans, especially in North Macedonia.
We remind you that the Government of Kosovo would have to put into operation two measures from August 1: the replacement of Serbian signs with the initials of the cities of Kosovo with RKS signs and also the issuance of the white sheet as an additional and necessary document for Serbs who pass from Serbia in Kosovo.
The decision begins to be implemented, but only temporarily, because after the escalation of the situation, the internationals intervened demanding non-implementation of this decision for another 30 days.
The Prime Minister of Kosovo, Albin Kurti, accepted the decision and now a solution will be sought in Brussels.