The 30-day postponement, Vucic speaks from the army headquarters: I thank the Serbs for their courage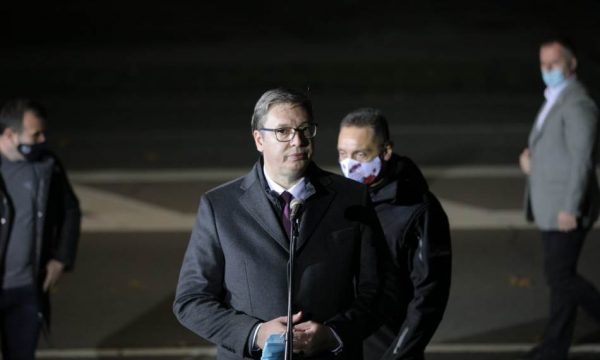 The President of Serbia, Aleksandar Vučić, has reacted after the meeting he had with the General Staff of the Serbian army, thanking the Serbs for, as he said, the "courage and restraint" that, according to him, the local Serbs showed in opposing reciprocity.
He said that they asked the international factor to talk with Kosovo officials, whom he called "irresponsible".
"It is extremely important for us that the dialogue continues and we begin to resolve things peacefully. We have asked all international representatives to do everything possible. It is important to continue the dialogue and try to solve things peacefully".
He also said that "Serbia will not surrender".
"Many thanks to the Serbs in Kosovo and M. for their restraint and courage. The hardest political fight is ahead of us. Thank you for keeping the Serbian name and surname in Kosovo and M. I want to thank those who supported Serbia. We are working to calm everything down. No matter how difficult it has been, there will be no surrender, Serbia will win", said Vucic while propagandizing.
The government of Kosovo has listened to the instruction of the American embassy in Kosovo to postpone the reciprocity until September 1. /Express