The images of the tense conversation between Ronaldo and Erik ten Hag during the friendly with Rayo Vallecano are released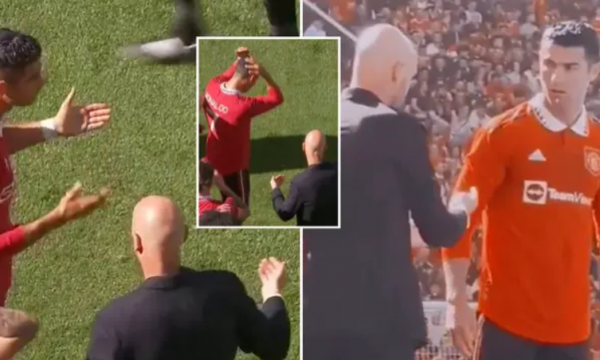 Some images published by fans where Cristiano Ronaldo and Erik ten Hag are seen having a conversation that was said to be tense, have started to circulate on social networks.
The future of the Portuguese forward is still unclear. He is believed to have asked to leave Manchester United, as he appeared in the friendly with Rayo Vallecano on Sunday, reports Rhewal.
Ronaldo played only the first half in this match, as after the substitution he was seen leaving the "Old Trafford" stadium completely.
However, a moment that happened in the first half has already caught everyone's attention. While the 33rd minute was underway, both teams went for a one-minute break to freshen up.
Manchester United manager Erik ten Hag was seen trying to give the striker some tactical advice. But, judging by the published images, Ronaldo only responded with arm movements – as the British medium "Express" writes that he was also seen rolling his eyes during the tense interaction.
This behavior of the 37-year-old with the new coach of the team is estimated to have strengthened the player's desire to leave even more.
And while 😊 pic.twitter.com/5NEodb0pg8

— 𝕐 A 𝔸 🇦🇪 (@smily_ad) July 31, 2022
Ronaldo doesn't rate Ten Hag pic.twitter.com/5MA43tjjkX

— Gypsy 🇵🇹 (@RealQuaresma) July 31, 2022
Otherwise, the five-time "Golden Ball" winner with Manchester United has a valid contract until June 30, 2023, while there is an option to continue for another year.
Ronaldo's agent, Jorge Mendes, is said to be working to find a new team for Ronaldo as soon as possible. /Express newspaper/