Fabregas also becomes a shareholder in the club with which he signed a contract for two seasons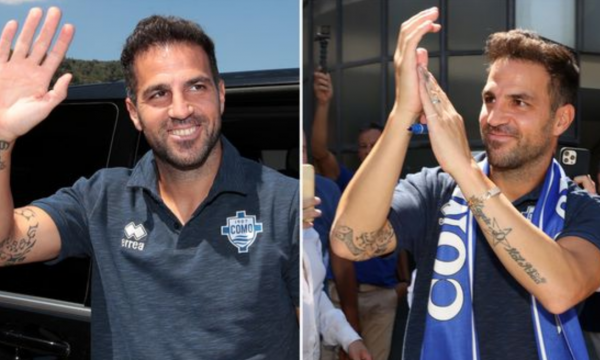 Cesc Fabregas will continue his career in the second category of Italian football.
The Spanish midfielder was presented this Monday in Como, writes Rhewal.
The Serie B club announced that Fabregas has signed a 2-year contract.
AS SPRING @cesc4official pic.twitter.com/DcyX92fRu1

— Como1907 (@Como_1907) August 1, 2022
However, the 35-year-old has also become a shareholder in the Como club. This has been confirmed by the club's chief executive, Dennis Wise.
"He owns part of the club, he is a shareholder. This is what Cesc wants to be involved in. He will be here much longer than expected. It was important, he felt, to be a part of it moving forward in the long run. He could see what we are trying to achieve at this football club," he told the Mirror.
"There's a lot more to do at the football club in terms of where we want to finish, in Serie A. He sees it as a good opportunity and I'm delighted he's on board," Wise added. carried by Rhewal.
After signing the contract with Como, Cesc Fabregas gave a statement to the club's official website, where, among other things, he confirmed that he has decided to invest in this club.
"It is an honor and a pleasure to join Como 1907. I have been extremely lucky because my career has allowed me to play at fantastic clubs. Como in this case is no exception. I spoke for a long time with Mirwan Suwarso, Dennis Wise and Charlie Ludi, who explained to me in detail their project, currently one of the most ambitious in the world of football", said the former midfielder of Monaco, Chelsea, Barcelona and Arsenal.
"For this reason, I am interested in staying here for a long time, not only on the field, but also off the field. I believed in the vision of this club from the beginning and decided to invest personally to become part of it. I can't wait to get on the field and play in front of the fans in such a beautiful environment. The tradition of this club and the desire of the owners to take this club to the next level are a source of inspiration and for that I can't wait to get started," added Fabregas. /Express newspaper/
The wait is (almost) over 🔵⚪️ @cesc4official pic.twitter.com/KOX646eLsZ

— Como1907 (@Como_1907) August 1, 2022