"Attacks directed from Belgrade and cyber attacks", Sveçla gives details about what happened yesterday and today in the north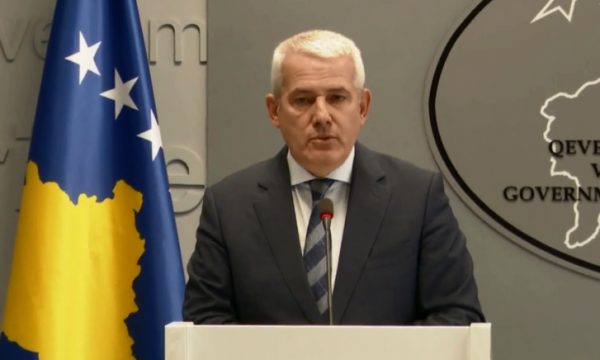 The Minister of Internal Affairs of Kosovo, Xhelal Sveçla, has said that all the barricades that were placed in the north by the Serbian groups have been removed. In a long Facebook post, he has shown that some groups have fired at Kosovo policemen yesterday and today. He adds that these groups were directed from Belgrade.
Svecla announces that the two border crossings in Jarinje and Bernjak are now open.
"Dear citizens of the Republic of Kosovo, the barricades placed by the Serbian illegal structures last night, 15 minutes after the release of the alarm system and distributed in 9 different locations in the north of the country, have already been completely removed by them. Freedom of movement is complete and the Jarinje and Bërnjak border points are open to citizens. Masked groups with long guns, led by Belgrade and coming from Serbia, have started attacks on the country's citizens, brutally beating them, and today they also shot at police officials with the aim of killing them. he.
"These attacks were prepared for a long time and these preparations culminated in the meetings in Belgrade and Raska. Such attacks do not contribute to the stability of our countries and the region because, above all, our Government has made two decisions respecting local and international laws. As we promised last night, as the Government of the Republic of Kosovo, by removing the barricades and ensuring freedom of movement for our citizens, we moved the implementation of the decisions to September 1, 2022, in order to maintain stability in the country and the region. , adds Svecla.
The minister also gives details about the attacks on Albanian citizens in the northern part and about the cyber attacks with which the official websites of the government and institutions of the Republic of Kosovo faced.
"Creating panic, causing general danger, the movement of armed and masked persons within the country, the brutal beating of our citizens as well as the attempted murder of our police officers are unacceptable actions and in this regard, the investigations and justice will definitely be done. The use of such criminal groups to destabilize the country by the Serbian side does not only endanger our country, and this becomes even more serious when Serbia, which aims to achieve its goals through such groups, receives full and already public support from Moscow.
"In addition to attacks on citizens, material damage and attempted murders against police officers, last night we were also faced with cyber attacks that tried to hinder the functioning of the state. In this regard, we have taken all the necessary measures and the system has been successfully protected," he adds.
This is his full status: