Sunny Hill launches mobile app (iOS/Android) – with digital wallet for payment of drinks or food at the festival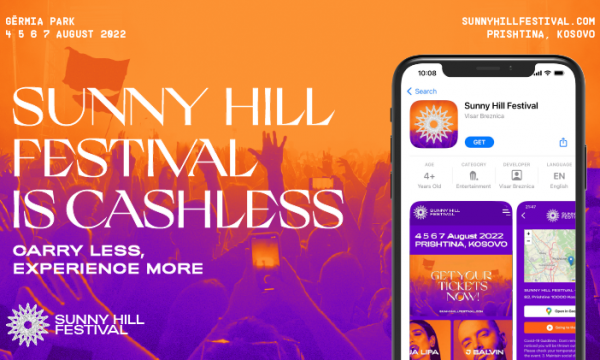 Sunny Hill Festival has announced that today it has launched its mobile application, which can be downloaded for free from the AppStore or Google Play Store.
AppStore download link: https://apps.apple.com/xk/app/sunny-hill-festival/id1634476298
Google Play Store Download Link: https://play.google.com/store/apps/details?id=com.company.sunnyhillmobile
In this edition of the festival, all payments for drinks and food at the festival will be digital only, through the festival's mobile application, the digital bylyzyk which can be topped up with credits (cash to digital money conversion points will be numerous in the festival space) as well as through POS terminals of ProCredit Bank.
Payments for drinks and food are very simple. After filling the online account according to the desired amounts, the user buys the selected product only by scanning it with the QR code of the festival's mobile application, scanning the digital bylyzykut or with a card through the POS.
Topping up the credit for drinks and food can be done online in the application, or through physical cashback points and cash in digital credit for use.
Sunny Hill is the biggest festival in the region which is held every year in Pristina. Starting this year, the traditional festival of the Kosovar capital (August 4-7) will also be held in Tirana (August 26-28).