"No surrender", banners are displayed in the north against the license plate decision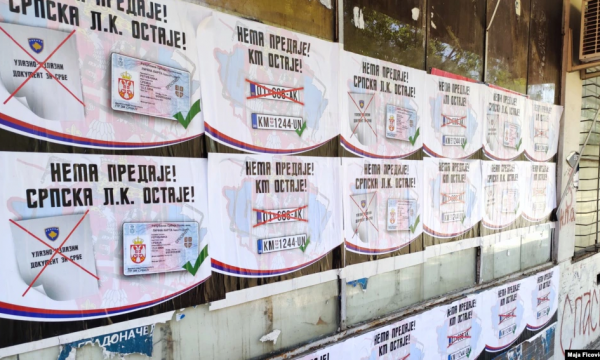 In the north of Kosovo, two days before the start of the implementation of the Government of Kosovo for the re-registration of cars with license plates bearing the names of the cities of Kosovo and the issuance of an entry-exit document for Serbian citizens, several banners and flyers appeared with the message: There is no surrender, the Serbian IDs will remain."
Likewise, the map of Kosovo, colored with the colors of the Serbian flag, was seen in the north of Kosovo and "no surrender" was written on it, to oppose the decision of the Government of Kosovo on June 29 to issue documents for entry and exit. for citizens of Serbia, who enter the territory of Kosovo.
Kosovo has said that Serbia has been issuing such a document, which will be valid for 90 days, to citizens of Kosovo for 11 years.
Previously, on July 13, in North Mitrovica, RKS (Republic of Kosovo) license plates were covered with stickers with KM license plates – which are issued by Serbia – and the emblem of Serbia, while a few days later, flyers were seen in cars with the message "No delivery, KM remains".
Kosovo considers license plates with acronyms of Kosovo cities issued by Serbia to be illegal.
With the new decision of the Government of Kosovo, citizens who have cars with Serbian license plates can re-register them until September 30. The decision will apply to all cars registered in the Serbian system in the period from June 10, 1999 to April 21 of this year./REL/